Monday 8 to Friday 12 October 2018
275
The Doolan String Quartet will take Haydn's 'Emperor' Quartet and Schubert 's 'Death and the Maiden' to new extremes of musical imagination and creativity. The four musicians and their facilitator Diane Daly will explore the musical structural form of Theme and Variations, to encourage their listeners to have fun with methods of composition, string playing techniques and recognition of musical ideas.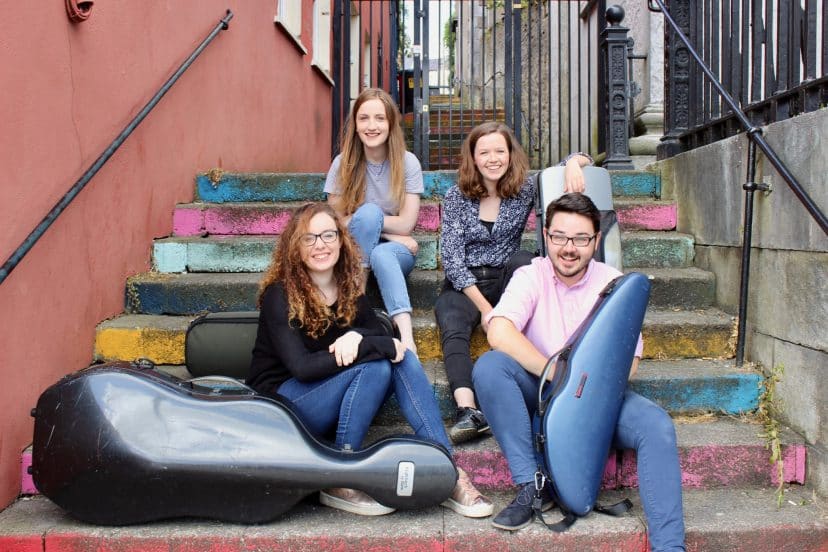 Workshop Plan 1
This workshop would be ideal for approx. 30 children in a large space, developing expressive responses to music, with elements of movement, art and composition. Each workshop would be 90 minutes long.
The focus is on learning to listen actively, using live performance of Schubert's 'Death and the Maiden' string quartet.
As each child responds in different ways we will incorporate a variety of methods and media – e.g. use poetry and storytelling in one section, art in another and movement in another. As we are exploring 'theme and variations' there will be time devoted in the 90 minutes workshops for them to compose their own theme and variations. This can be done very simply, in small groups of 6 and the quartet can perform their pieces at the end of each workshop.
They will also be using scarves, balls and elastics to bring the music to life, exploring time, space and energy.
At the heart of this plan is the encouragement of self expression and that classical music can be fun to listen to, particularly when they have guidelines on how to listen.
Workshop Plan 2
This workshop plan is more suited for larger groups who won't have space to move around. It is therefore only 60 minutes.
The Doolan quartet will perform extracts from Schubert's 'Death and the Maiden' string quartet. The audience will be guided through each movement discovering different approaches to listening to a new piece of music.
They will explore the musical elements of pitch, harmony, melody and rhythm, and learn about different musical forms, such as 'Theme and Variations'. The quartet and their facilitator Diane Daly will take the children on musical imaginative journeys using games, storytelling and physical actions to enhance their emotional response to listening to classical music.
This workshop is developed to enhance children's experiences of active listening, particularly when they have guidelines on how to listen in a fun, creative and imaginative way.
---