Thursday 8 July 2021
7:00 pm
Free
Join us for a conversation on the importance of diversity in children's literature and YA literature. This event is hosted by inclusive publisher Knights Of and Children's Books Ireland and they will be joined by writers Burhana Islam and Adiba Jaigirda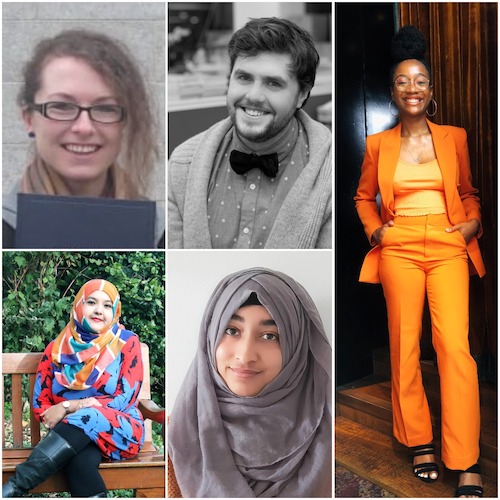 Burhana Islam's Mayhem Mission is a laugh out loud story of 10 year old Yusuf's chaotic plan to ruin his sister's wedding – he really doesn't want to become the man of the house! Burhana has effortlessly drawn on her family experiences and Bengali community to create a rich cast of characters and her inclusion in the Inclusive Indies campaign feels like a fantastic opportunity to share their stories with the world.
*****
Hani and Ishu's Guide to Fake Dating is the new YA novel by Adiba Jaigirda. Everyone likes Hani Khan – she's easy going and one of the most popular girls at school. But when she comes out to her friends as bisexual, they don't believe her, claiming she can't be bi if she's only dated guys. Panicked, Hani blurts out that she's in a relationship… with a girl her friends can't stand – Ishu Dey. Ishu is the polar opposite of Hani. An academic overachiever, she hopes that becoming head girl will set her on the right track for university. Her only problem? Becoming head girl is a popularity contest and Ishu is hardly popular. Pretending to date Hani is the only way she'll stand a chance of being elected. Despite their mutually beneficial pact, they start developing real feelings for each other. But some people will do anything to stop two Bengali girls from achieving happily ever after.
Knights Of is an award-winning inclusive publisher focused on ensuring the most inclusive team possible, from across backgrounds and communities, work on every book. The team works with retailers to make bookshops approachable to communities and families who do not regularly visit, supporting events, outreach, marketing and partnerships. In areas without bookshops, engagement is focused on non- traditional community spaces as well as schools, libraries and youth groups. Knights Of is based in the UK. Twitter @_KnightsOf | Instagram @_KnightsOf | Facebook Knights Of
Children's Books Ireland is the national charity & arts organisation that champions every child's right to develop a love of reading. Through our many activities and events we aim to engage young people with books, foster a greater understanding of the importance of books for young people and act as a core resource for those with an interest in books for children in Ireland. This is our vision: every child a reader. Our mission is to inspire a love of reading in children and young people in Ireland. To share our expertise and enthusiasm with the adults who guide and influence them. To champion every child's right to excellent books and live literature events and support the artists who make that goal possible across the island of Ireland.
Aimée Felone
Aimée Felone is managing director of Knights Of – a commercial children's publisher whose main focus is publishing inclusively by commissioning writers and illustrators from a diverse range of backgrounds,...
Read More
David Stevens
David Stevens is Associate Director at Knights Of – a commercial children's publisher based in London. He is co-founder of Round Table Books in Brixton, which exclusively stocks titles from...
Read More
Becky Long
Becky Long received her PhD in children's literature from Trinity College Dublin in 2018. She has been a Book Doctor with Children's Books Ireland since 2016, having graduated from the...
Read More
Burhana Islam
Born in Bangladesh, raised in Newcastle and currently residing in the outskirts of Manchester, Burhana Islam is a storyteller who is passionate about exploring themes of heritage, belonging, identity and...
Read More
Adiba Jaigirdar
Adiba Jaigirdar was born in Dhaka, Bangladesh, and has been living in Dublin, Ireland from the age of ten. She has a BA in English and History from University College...
Read More
Zoom
Zoom provides modern enterprise video communications, with an easy, reliable cloud platform for video and audio conferencing, collaboration, chat, and webinars across mobile devices, desktops, telephones, and room systems. The...
Read More