Friday 9 July 2021
10:25 am
1:30 pm
€25
Have you ever thought about writing or illustrating a picturebook but don't know where to start? This webinar is for you - it's part of the #ProperBook series of practical events and workshops for new and emerging children's writers and is presented by West Cork Literary Festival in association with Children's Books Ireland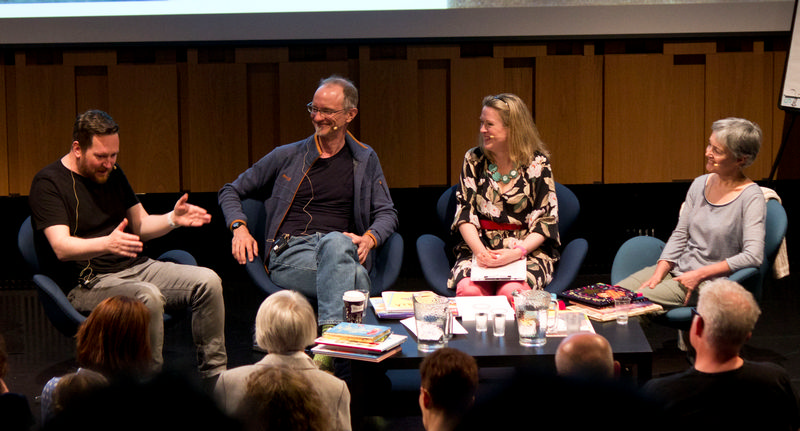 Please note that this is a live zoom webinar and will not be recorded. Therefore it will only be available as a live event and open to those who register in advance.
Discover the recommended word count for a picturebook, how a picturebook is laid out, why you don't need an illustrator to submit a picturebook text, and what agents and publishers are looking for when it comes to picturebooks. Hear from a wide range of book industry experts on all aspects of writing and publishing for children. This back-to-basics event will provide the no-nonsense information you need to get your picturebook idea off the ground.
Plus hear children's writers and illustrators talk about how they got published and give tips for new writers and illustrators.
Come with questions and leave with answers!
Children's Books Ireland is the national books organisation of Ireland. Through their
many activities and events they aim to engage young people with books, foster a greater understanding of the importance of books for young people and act as a core resource for those with an interest in books for children in Ireland. One of their missions is to champion every child's right to excellent books and live literature events, and to support the artists who make that goal possible across the island of Ireland. This event was programmed by Sarah Webb for West Cork Literature Festival and Children's Books Ireland.
10.25am Join Our Webinar
10.30am Welcome by Aoife Murray, Programme and Events Manager, Children's Books Ireland and Eimear O'Herlihy, West Cork Literary Festival
10.35am to 11.30am The World of Picturebooks
What is a picturebook? How are they laid out and how many words should they be? Do picturebooks have to rhyme? Find out all this and much more during this first panel session.
Chaired by Sarah Webb, Children's Writer, Reviewer and Programmer. Speakers: Patricia Forde, Mary Murphy and Joseph Coelho 
11.30am to 11.40am 10 minute break
11.40am to 12.20pm Debut Picturebook Authors and Illustrators
Hear debut picturebook authors and illustrators talk about their journey to publication and share their writing and illustrating tips.
Chaired by Shane Hegarty, Author of the Boot books for children and experienced journalist. Speakers: Caitriona Sweeney, Debut author/illustrator of A Galway Fairytale and Hannah Lee, Debut author of My Hair 
12.20pm to 12.30pm 10 minute break
12.30pm to 1.30pm What Publishers and Agents are Looking For, Finding an Agent and Getting Published 
Aoife Murray from Children's Books Ireland talks about the world of agents and publishing with some experts from the children's book world. Speakers: Deirdre Nolan from Gill Books; Tanya Rosie from Walker Books and Jodie Hodges, Children's Literary Agent, United Agents.
Sarah Webb
Sarah Webb is an award-winning children's writer and creative writing teacher. She runs creative writing clubs for children and reviews children's books for The Irish Independent. She also programmes children's...
Read More
Patricia Forde
Patricia Forde is a children's writer from Galway, and chairperson of Children's Books Ireland.  She writes in Irish and in English and has written picture books and novels. Her latest...
Read More
Mary Murphy
Mary Murphy has written and illustrated more than forty bright, strong books for children including What I Like Most and A Kiss Like This. She lives in Dublin with her...
Read More
Joseph Coelho
Joseph Coelho is a multi-award winning children's author and poet. He writes across several mediums for children including stage plays, picturebooks, non-fiction and middle grade. He wrote and presented Teach...
Read More
Shane Hegarty
Shane Hegarty is the writer of the 'Darkmouth' series, about a town invaded by monsters and the kid who is supposed to save everyone, and the 'Boot' series about a...
Read More
Caitriona Sweeney
Caitriona Sweeney is an illustrator from Dublin who spent most of her summers roaming around her Granddad's farm in the west of Ireland. Her debut picturebook, A Galway Fairytale will...
Read More
Hannah Lee
Hannah Lee was born in London, where she still lives. She always loved books, but yearned to see more stories that featured children like her – so now she is...
Read More
Aoife Murray
Aoife Murray holds an MPhil in Popular Literature from Trinity College Dublin. She has worked at Children's Books Ireland since 2012 and is currently Programme and Events Manager at the...
Read More
Deirdre Nolan
Deirdre Nolan has worked in the publishing industry for over twenty years. As an Associate Publisher with Gill Books, she looks after a wide variety of titles, and is particularly...
Read More
Tanya Rosie
Tanya Rosie joined Walker Books in 2014 as an intern, and is now a Commissioning Editor of picture books, working with bookmakers that include Holly Sterling, Flavia Z. Drago, Briony...
Read More
Jodie Hodges
Jodie Hodges is the literary agent for children's authors and illustrators at United Agents, where she has worked since the company's inception in 2008. She develops new talent across writing...
Read More
Zoom
Zoom provides modern enterprise video communications, with an easy, reliable cloud platform for video and audio conferencing, collaboration, chat, and webinars across mobile devices, desktops, telephones, and room systems. The...
Read More