Tuesday 30 June 2020
7:00 pm
Pre-recorded exclusively for our Virtual West Cork Chamber Music Festival 2020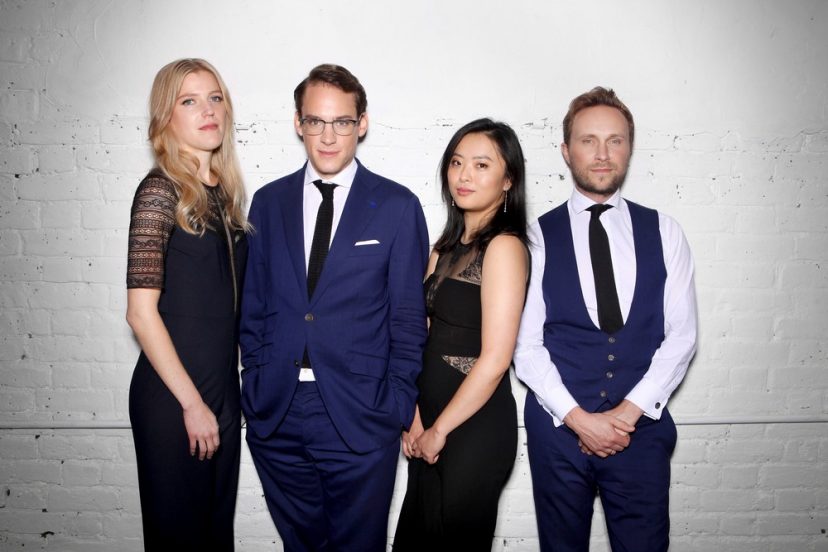 This specially filmed concert will become available to view here at 7pm on Tuesday 30th June 2020. The link will be shared on our social media, or you can check-in to this event page to watch it here.
If the concert is not immediately visible at that time, please refresh this page and/or clear your cache.
If you would like to make a donation towards the cost of these performances, please click on the Donate button below. All donations will go directly to the musicians.
The Doric Quartet's concert comes to us from the Henry Wood Hall in London. It is their first performance since the lockdown and they will play two masterpieces of the quartet repertoire separated by almost two hundred years. Haydn's Op.33 so-called Russian Quartets, so named for their dedication to the future Tsar Paul II, are where the string quartet comes of age as the Master relaxes into popularising this new genre he had created. They were instantly popular with their light yet sophisticated textures and his tight trademark counterpoint. They also provided the challenge and the inspiration for Mozart's ground-breaking set a few years later. That said the B minor Quartet is the edgiest one in the set with dramatic contrasts between quiet introspective passages, often of great beauty, and sudden intense outbursts that drive the music forward. A highlight is the wonderful Andante with its captivating second theme, announced in bare octaves by the lower strings. The presto Finale is all you would expect of Haydn in full flight, which the Doric delivers with great relish and even greater skill.
Britten's Third Quartet is known as La Serenissima as the devastating Passacaglia was composed in Venice. It was both his swansong and his homage to his great contemporary and friend, Dmitri Shostakovich, who had died that summer and whose ghost haunts this work. Britten was primarily an opera composer, here transferring his vocal style of solo, duet and recitative into four strings, much as Shostakovich did after the disaster of Lady Macbeth of Mtsensk. The opening Duets movement sees the instruments pairing with each other in a dance of voices. The first Scherzo is brief and violent with a quiet chorale-like Trio. The Solo movement is intensely beautiful with the first violin soaring stratospherically with a deeply touching melody of Bach-like purity. There is a Messiaen-like central section with a wild flurry of birdsong before the violin's melody returns more movingly than ever, the last bars taking on a miraculous luminosity as the other instruments float up to meet the violin. Burlesque is an obsessive, hard-driven dance with a skeletal Trio marked by the viola playing sul ponticello.
The Recitative has the instruments anxiously looking for their path, wisps of melody, a flurry of pizzicati, before finally the first violin leads the way into the glorious Passacaglia, whose calm, long drawn-out, stately theme works its way almost unbearably into our hearts. Slowly we realise that this is a great composer's last farewell. The final bars remain unresolved as Britten himself said: I want the work to end with a question.
---
| Composer | Work |
| --- | --- |
| Haydn | String Quartet Op.33 |
| Britten | String Quartet No.3 in G major Op.94 |
Online
Online venues vary, see event details for links you need to participate, or we will let you know by email.
Read More
Henry Wood Hall, London
Located just off London's Borough Hill Street and set in the beautiful conservation area of Trinity Church Square in Southwark, Henry Wood Hall is the city's premier rehearsal and recording...
Read More