Over the course of their seven year correspondence, 1807 – 1814, the friendship between botanists, Ellen Hutchins of Ballylickey, Bantry and Dawson Turner of Great Yarmouth, England, developed a closeness that went way past the seaweeds and plants they were identifying. They never met but developed a surprisingly intimate relationship through the sharing of family events and the exchange of views on a range of topics including poetry with Byron featuring strongly.
Hear their story through extracts of their letters read by performers, Karen Minihan – live –  and Robin McLoughlin – recorded, with introductory and explanatory notes by Finola Finlay (Roaringwater Journal). The piece weaves this together with Marianne Lee reading from her novel, A Quiet Tide, discussing what drew her to Ellen's story and her creative process in writing the novel.
Oonagh Hurley's painting of Ellen Hutchins was in the Women Unremembered exhibition at LHQ in Cork City last year and was purchased by UCC for the renaming of the Environmental Research Institute building Áras Ellen Hutchins in September 2022. The painting now hangs in the reading room dedicated to Ellen and the study of the environment.
After questions and answers, Madeline Hutchins, as Ellen's relative, will present some archives and artefacts from Ellen's life including her copy of Byron's Childe Harold and other books she owned.
An Ellen Hutchins Festival production with funding from a Cork County Council arts grant.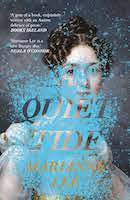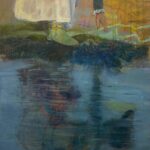 'Ellen, or 'Hutchinsiae', 2022, Acrylic and collage on canvas, by Oonagh Hurley