Thursday 29 July 2021
7:00 pm
Free
The 32 is a celebration of working-class voices from the island of Ireland and it features 16 published writers and 16 new voices writing about their experience of being working class in Ireland. In this event editor Paul McVeigh speaks to four of the contributors Riley Johnston, Dave Lordan, Abby Oliveira and Rick O'Shea.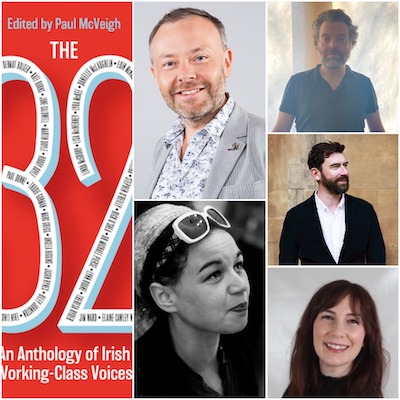 We read because we want to experience lives and emotions beyond our own, to learn, to see with others' eyes.
Edited by award-winning novelist Paul McVeigh, this intimate and illuminating collection features memoir and essays from established and emerging Irish voices including Kevin Barry, Dermot Bolger, Roddy Doyle, Lisa McInerney, Lyra McKee and many more. The 32 is published by Unbound on 8 July 2021.
Too often, working-class writers find that the hurdles they come up against are higher and harder to leap over than those faced by writers from more affluent backgrounds. As in Common People – an anthology of working-class writers in the UK edited by Kit de Waal and the inspiration behind this collection – The 32 sees writers who have made that leap reach back to give a helping hand to those coming up behind. Without these working-class voices, without the vital reflection of real lives or role models for working-class readers and writers, literature will be poorer. We will all be poorer.
Paul McVeigh
Paul McVeigh's debut novel, The Good Son, won The Polari First Novel Prize and The McCrea Literary Award and was shortlisted for many others including the Prix du Roman Cezam in...
Read More
Riley Johnston
Riley Johnston is an English teacher in St Genevieve's High School, Belfast. Improper, which features in The 32: An Anthology of Irish Working-Class Voices, is her first piece of published...
Read More
Dave Lordan
Dave Lordan is widely acknowledged as one of Ireland's leading contemporary poets, essayists and literary thinkers. He is a renowned advocate for community and youth creativity and well-being, working alongside...
Read More
Abby Oliveira
Abby Oliveira is a writer, performer, lyricist, and theatre maker based in Derry. She has been an eminent member of the Irish spoken-word scene for over a decade.  She performs...
Read More
Rick O'Shea
Rick O'Shea is a broadcaster with RTE – he is on RTE Gold weekday mornings and presents The Book Show on RTE Radio 1. He runs The Rick O'Shea Book...
Read More
Zoom
Zoom provides modern enterprise video communications, with an easy, reliable cloud platform for video and audio conferencing, collaboration, chat, and webinars across mobile devices, desktops, telephones, and room systems. The...
Read More