Thursday 29 October 2020
7:00 pm
€5
Maeve Higgins is the author of a collection of essays Maeve in America, a contributing writer for the New York Times and the host of the hit podcast Maeve in America.
Join Maeve Higgins for a conversation with Nadine O'Regan about her life in New York during these strangest times as almost the entire world is under COVID-19 restrictions and her new home of America is gearing up for a presidential election. Maeve was originally scheduled to join us in West Cork this summer so we are delighted to now have the opportunity to present this online event. When you book a ticket we will email you a link so that you can join the event on the night.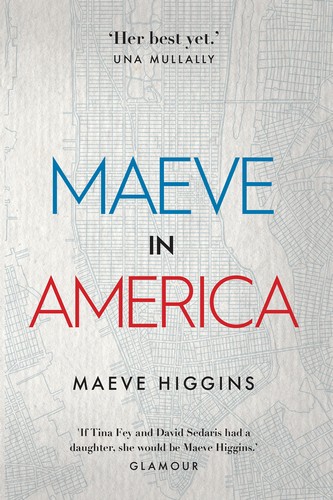 Maeve Higgins was a bestselling memoirist and comedian in Ireland when, at the grand old age of thirty-one, she left the only home she'd ever known in search of something more. At once smart, curious, and humane, Maeve in America is the story of how Maeve found herself, literally and figuratively, in New York City.
Here are stories of learning to live with yourself while you're still figuring out how to love yourself, of the true significance of realizing what sort of shelter dog you would be. Self-aware and laugh-out-loud funny, this collection is also a fearless exploration of the awkward questions in life, such as: Is clapping too loudly at a gig a good enough reason to break up with somebody? Is it ever really possible to leave home? Together, the essays in Maeve in America create a startlingly funny and revealing portrait of a woman who aims for the stars but hits the ceiling.
'This is a really funny, really natural, really gifted writer.' Kevin Barry
'Maeve Higgins is hilarious. She is the true Irish voice of our American generation.' Amy Schumer
Maeve Higgins
Maeve Higgins is a contributing writer for the New York Times and the host of the hit podcast Maeve in America. As a comedian she has performed all over the...
Read More
Nadine O'Regan
Nadine O'Regan is an award-winning arts journalist and broadcaster. Editor of the Business Post Magazine and head of podcasting with the Business Post, she is a regular contributor to Arena...
Read More
Zoom
Zoom provides modern enterprise video communications, with an easy, reliable cloud platform for video and audio conferencing, collaboration, chat, and webinars across mobile devices, desktops, telephones, and room systems. The...
Read More