Monday 12 July 2021
7:00 pm
Free
Join Dutch poet and artist Miek Zwamborn and her translator Michele Hutchison for a conversation about The Seaweed Collector's Handbook, a beautifully illustrated little book that will open your eyes at the seaside. Miek and Michele will be in conversation with Rachel Andrews in this event supported by the Nederlands Letterenfonds / Dutch Foundation for Literature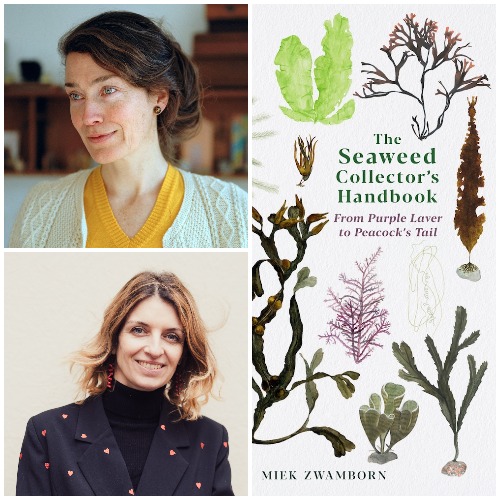 This video is available on our West Cork Literary Festival youtube channel. Click here to watch 
Seaweed is so familiar and yet its names – pepper dulse, sea lettuce, bladderwrack – are largely unknown to us. In The Seaweed Collector's Handbook, this short, exquisitely illustrated portrait, the Dutch poet and artist Miek Zwamborn shares her discoveries of its history, culture and use, from the Neolithic people of the Orkney Islands to sushi artisans in modern Japan. Seaweed troubled Columbus on his voyages across the Atlantic, intrigued von Humboldt in the Sargasso Sea and inspired artists from Hokusai to Matisse. Covering seaweed's collection by Victorians, its adoption into fashion and dance and its potential for combating climate change, and with a fabulous series of recipes based around the 'truffles of the sea', this is a wonderful gift for every nature lover's home. The Seaweed Collector's Handbook is translated into English by Michele Hutchison and in this event we hear from both the writer and the translator.
This is one in a series of four New Dutch Writing events supported by the Nederlands Letterenfonds / Dutch Foundation for Literature. These events take place online at 7pm every Monday during July 2021 as part of this year's West Cork Literary Festival
Miek Zwamborn
Miek Zwamborn is an author, translator and artist. Her practice often delves into archival collections, drawing on the suggestive possibility of historical materials, letters, texts, objects and artefacts in order...
Read More
Michele Hutchison
Michele Hutchison is a literary translator from Dutch and French into English. As a former commissioning editor at various top publishing houses, she has translated more than twenty books from...
Read More
Rachel Andrews
Rachel Andrews' essays and criticism have appeared or are forthcoming in outlets including the London Review of Books, n+1, Brick literary journal, the Stinging Fly, Longreads, Gorse, Banshee, the White Review, the Irish Times and the Dublin Review. In 2018, she was...
Read More
Online
Online venues vary, see event details for links you need to participate, or we will let you know by email.
Read More