Tuesday 13 July 2021
6:00 pm
Free
Colin Hassard's debut collection of poetry, Age of the Microwave Dinner, and Dimitra Xidous' second collection, Μηδέν | Oὐδέν, were both published by Doire Press in 2021. Colin and Dimitra will be in conversation with fellow poet and Doire Press writer William Wall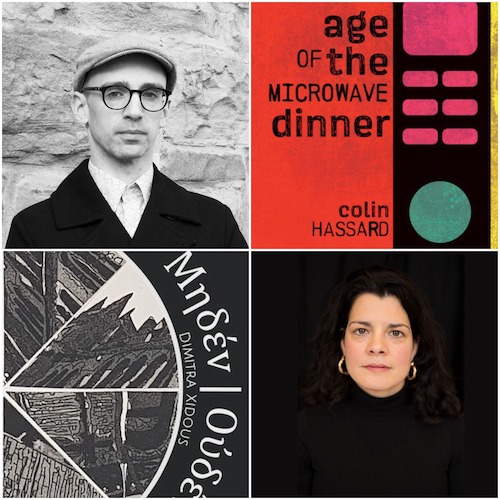 This video is available on our West Cork Literary Festival youtube channel. Click here to watch 
Age of the Microwave Dinner, the debut poetry collection by Banbridge poet Colin Hassard, explores where we are as a society, along with universal themes of heartbreak, family, relationships and death. Renowned for his thought-provoking work, these poems are infused with Colin's unique perspective, humour and insight. Age of the Microwave Dinner was published by Doire Press in spring 2021.
Dimitra Xidous' second poetry collection, Μηδέν | Oὐδέν, will formally be published by Doire Press in 2021. Μηδέν | Oὐδέν is a collection that turns, returns and turns on language. Zeroing in on grief, memory and fucking, Dimitra plays with images and the space between then. Each poem in the collection can be read as a zero point, in space and time. Starting from zero, Dimitra distorts and twists language around words and sounds. At its centre, Μηδέν | Oὐδέν pivots around the erotic and establishes an erotics of space – in space and in time, the body is both in possession, and possessed, by the ways in which Dimitra, a bilingual writer in English and Greek, exploits the materiality of language(s). Building on her previous work in Keeping Bees, Dimitra continues to advocate for pleasure, joy and delight.
Doire Press is a small award-winning publisher based in Connemara, publishing high-quality Irish poetry and short-story collections with an emphasis on emerging writers. Founded by Lisa Frank and John Walsh, it started officially in 2010 and has quickly established itself as one of the most notable small presses in Ireland. Its titles include Waiting for the Bullet by Madeleine D'Arcy, Winner of the 2015 Edge Hill Readers' Prize; In a Hare's Eye by Breda Wall Ryan, winner of the 2016 Shine/Strong Prize; In the Museum of Misremembered Things by Linda McKenna, winner of the Irish Book Awards Poem of the Year Award  Catholic Boy by Rosemary Jenkinson, shortlisted for the 2019 EU Prize for Literature; Accurate Measurements by Adam White, the only Irish publication to be shortlisted for the 2013 Forward Prize for Poetry; and Galway Stories, Belfast Stories and Galway Stories: 2020, featuring many of Ireland's and Northern Ireland's best contemporary fiction writers. Funded by the Arts Council and the Arts Council of Northern Ireland, many of its books have also been taught on university courses in Ireland and in the States.
Colin Hassard
Colin Hassard is a poet from Banbridge in Northern Ireland. He was runner-up in the Seamus Heaney Award for New Writing 2018 and shortlisted for the Aurivo North West Words...
Read More
Dimitra Xidous
Dimitra Xidous is a poet and writer living and working permanently in Ireland since 2011. In 2019, she was awarded a Markievicz Bursary for (S)worn State(s), a poetry collaboration with...
Read More
William Wall
William Wall has published four collections of poetry, six novels and three collections of short fiction. His fifth collection of poetry, Smugglers In the Underground Hug Trade – Journal of...
Read More
Zoom
Zoom provides modern enterprise video communications, with an easy, reliable cloud platform for video and audio conferencing, collaboration, chat, and webinars across mobile devices, desktops, telephones, and room systems. The...
Read More