Wednesday 29 September 2021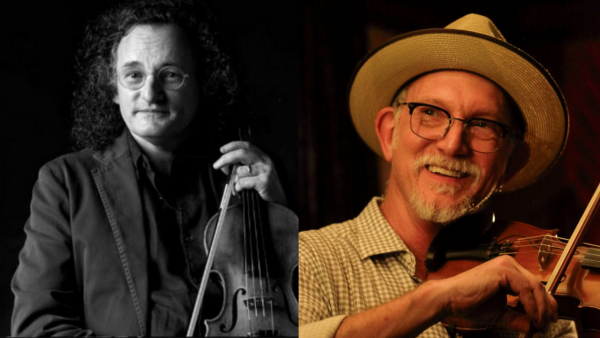 Martin Hayes, the Co. Clare fiddle player and Artistic Director of Masters of Tradition talks to one of the most revered "multi-hyphenated career" ambassadors for America's old-time mountain music, Bruce Molsky.
"Bruce Molsky is one of those great players who 'gets it': has all the links to the past but is happy not to be chained to it"  Mark Knopfler
"Bruce Molsky is easily one of the nation's most talented fiddlers…he transports you … geographically, historically, and most of all emotionally" Mother Jones
"It is no exaggeration to say that Bruce Molsky is one of the greatest American fiddlers of all time. His playing is mesmerizing and transporting, and best experienced live"  WBUR (Boston NPR)
"In the decades to come, we'll surely talk of having seen this man in the way others talk of Miles Davis or Jimi Hendrix or John Coltrane."
Irish Times
"Hayes has a sublime lyrical and melodic sensibility that transforms all that jiggety-jig scraping into heartbreaking musical washes of the deepest melancholy and moments of sheer, sparkling exuberance."
Sydney Morning Herald
Martin Hayes [Fiddle]
Bruce Molsky [Banjo, Fiddle, Guitar, Singer]
---
Online
Online venues vary, see event details for links you need to participate, or we will let you know by email.
Read More