Tuesday 13 October 2020
8:00 pm
€8
Leslie is a New York Times bestselling author hailed as this generation's Joan Didion (New York Times) and Susan Sontag (Sunday Times)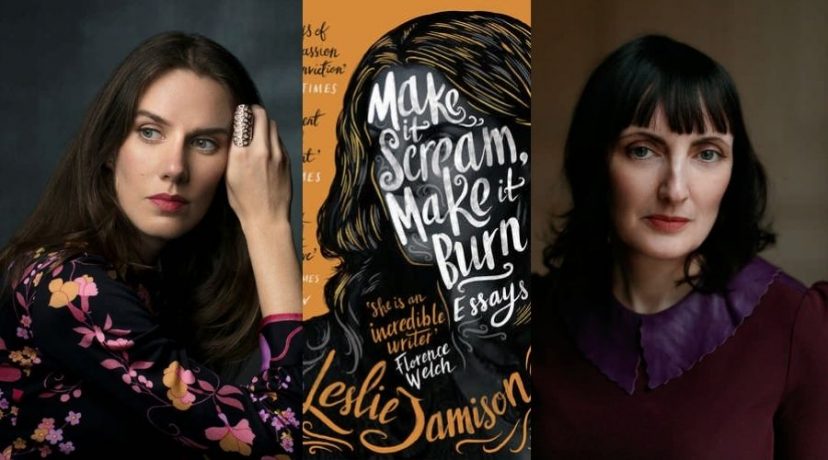 Once you book you will automatically receive a unique link so that you can join the event on the night.
Leslie Jamison was originally scheduled to come to West Cork Literary Festival in July 2020 to be in conversation with Sinéad Gleeson. Please join Leslie and Sinéad in this special online event to celebrate the publication of the paperback edition of Leslie's latest collection of essays Make It Scream, Make It Burn. When you book a ticket we will email you a link so that you can join the event on the night.
Make It Scream, Make It Burn by Leslie Jamison is a meditation on isolation, longing and the conflicts faced by all those who choose to tell true stories about the lives of others A profound exploration of the oceanic depths of longing and obsession, this is a book about why and how we tell stories. It takes the reader deep into the lives of strangers – from a woman healed by the song of 'the loneliest whale in the world' to a family convinced their child is a reincarnation of a lost pilot – and asks how we can bear witness to the changing truths of other's lives while striving to find a deeper connection to the complexities of our own. The title essay, on James Agee's epic evocation of Southern American rural poverty, is a masterclass in the art of the discursive literary essay.
'Essays of compassion and conviction… Jamison covers a wide range of subjects with deep empathy and intelligence… Perhaps all writing is an innate, primal scream, and Jamison – astutely – knows and embodies this with compassion and vigour.' Sinéad Gleeson, Irish Times
'Railing, roaring essays on humanity… Jamison has time for everyone… excellent.' The Telegraph
'Wide-ranging… [Jamison's] language is typically lush… [she] picks excellent topics… Jamison walks a careful line between scepticism and compassion – never sacrificing her subjects' dignity… fascinating.' New Statesman
'One of the most esteemed contemporary names in nonfiction… Biting and honest.' Book Riot
Leslie Jamison
Widely considered one of the defining voices of her generation, Leslie Jamison is the author of the New York Times bestsellers The Recovering and The Empathy Exams as well as...
Read More
Sinéad Gleeson
Sinéad Gleeson's essays have been published by Granta, Winter Papers and Gorse, and broadcast by BBC and RTÉ. Her debut essay collection Constellations: Reflections from Life(Picador) won Non-Fiction Book of the Year at 2019 Irish...
Read More
Online
Online venues vary, see event details for links you need to participate, or we will let you know by email.
Read More