Martina Devlin's new novel Edith is based on the life of Edith Somerville of 'Somerville and Ross' fame – authors of The Irish R.M. In this work, set during the turbulent period of Irish Independence 1921–22, Edith finds herself at a crossroads. Her position as a member of the Ascendancy is perilous as she struggles to keep her family home, Drishane House in West Cork, while others are burned out. After years in a successful writing partnership with Violet Martin, Edith continues to write after her partner's death, comforted in the belief they continue to connect through automatic writing and séances. Against a backdrop of Civil War politics and lawlessness erupting across the country via IRA flying columns, people across Ireland are forced to consider where their loyalties lie. In Edith, Martina limns a vivid historical context in this story of proto-feminist Edith Somerville courageously trying to keep home and heart in one piece.
The story of Somerville and Ross is unique in the history of Irish women writers. Academic Shawn R. Mooney described these best-selling authors as 'undeniably New Women: single, educated and economically independent writers whose lives and literary collaboration were unique manifestations of late-nineteenth century feminist strivings toward political and sexual equality'. Martina depicts Edith in the round, suffering from loss, striving for safety, and keeping hold of hope in this captivating narrative set in the early years of a nascent state — a triumph of ventriloquism rooted in a society on the cusp of change.
Due to a change in programming, Marianne Lee will no longer be in attendance.
A Quiet Tide is Marianne Lee's debut novel about the life of Ellen Hutchins. At the time of her death in 1815, twenty-nine-year-old Hutchins had catalogued over a thousand species of seaweed and plants from her native Bantry Bay. Ireland's first female botanist, Ellen was a major contributor to nineteenth-century scientific discovery. And yet, like so many brilliant women lost in history, it is her personal story that will resonate today. In her remarkable debut novel, Marianne Lee fuses fact with fiction to imagine Ellen's rich but tormented inner life, repressed by the gender and class confines of her time. Unmarried, childless and sickly, Ellen is considered an 'unsuccessful' woman, dutifully bound to her family's once grand and isolated estate, Ballylickey House. Still, she glimpses a happiness and autonomy she can never quite articulate as she reaches for meaning and expression, until the eruption of a long-simmering family feud and the rise of Ellen's own darkness – her 'quiet tide' – will conspire to destroy her fragile future. A Quiet Tide is a life examined, a heartbreaking, inspiring story that at last captures the essence and humanity of a long-forgotten Irishwoman.
'A beautiful, elegantly written novel about the tangled roots of family and the pursuit of singular passions. Marianne Lee is a new literary star.' Nuala O'Connor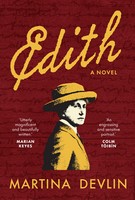 .