These Days is the first novel in a decade from award-winning short story writer, Lucy Caldwell. In April 1941 Belfast has escaped the worst of the war – so far. Over the next two months, it's going to be destroyed from above, so that people will say, in horror, My God, Belfast is finished. Many won't make it through, and no one who does will remain unchanged. Following the lives of sisters Emma and Audrey – one engaged to be married, the other in a secret relationship with another woman – as they try to survive the horrors of the four nights of bombing which were the Belfast Blitz, These Days is a timeless and heart-breaking novel about living under duress, about family, and about how we try to stay true to ourselves.
Sensationally good Sunday Times
'This was my home. This harbour and sea. These golden alleys. But the town I grew up in has disappeared.' Daughters of the Labyrinth is the new novel by acclaimed poet Ruth Padel. Broken by the death of her husband, Ri, a successful international artist living in London, returns to her ancestral home of Crete. The Greek island is known for its ancient myth and mass tourism, but when Ri returns she finds a secret, darker history. As the home she left deals with a looming Brexit, and the home she rediscovered grapples with a refugee crisis, Ri confronts her changing identity. Unearthing stories from her family's past leaves a permanent mark on her understanding of herself, her relationship to her country, and her art. Lyrical, unsettling and evocative, Daughters of the Labyrinth explores the power of buried memory and the grip of the past on the present, and questions how well we can ever know our own family.
Daughters of the Labyrinth is a novel about a daughter's passionate quest for the truth about what happened to her parents in Crete during the German occupation. It is also a sumptuous and sensuous evocation of Crete itself, its landscape and culture. Ruth Padel's brings a poet's eye to this world of great physical beauty and gnarled legacy. Colm Tóibín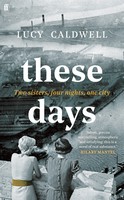 .