Friday 23 July 2021
1:00 pm
2:00 pm
Free
Now in its fourth year, the Irish Writers Centre Young Writer Delegate Programme has partnered with the West Cork Literary Festival for the first time. At this showcase, our four selected IWC/WCLF Young Writer Delegates will share some of the creative work developed during the festival with their mentor Eimear Ryan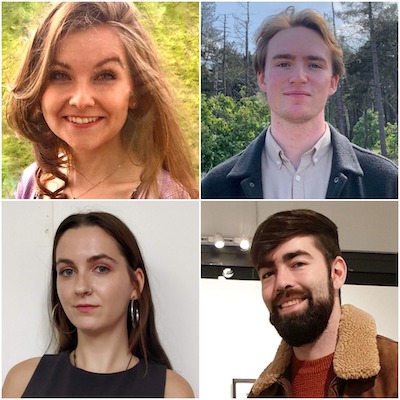 This year's Young Writer Delegates are Ava Lynch, Shane Murphy, Niamh O'Connell and Ross Walsh.
Founded in 1991, the Irish Writers Centre is the national resource centre for Irish literature. Their mission is to support, promote and inform writers at all stages of their development. IWC offers a diverse education programme of writing courses and workshops led by established writers across a range of genres including memoir, poetry, creative non-fiction, criticism, playwriting, writing for screen, animation and games, short-stories and the novel. IWC welcomes writers, readers and international visitors keen to develop their career as a writer. For further information click here
Ava Lynch
Ava Lynch is a bilingual poet who was lucky enough to run 2 events and a poetry competition with a group of friends (Ó Bhéal na mBan) for this years'...
Read More
Shane Murphy
Shane Murphy was born in Dublin, Ireland, where he works and continues to live. He holds a degree in English Studies from Trinity College, Dublin and is currently working on...
Read More
Niamh O'Connell
Niamh O'Connell is a Cork-based poet. Her poetry has appeared in Irish publications such as The Quarryman and Bealtaine magazine. She holds an MA in Writing Poetry from Newcastle University,...
Read More
Ross Walsh
Ross Walsh [he/him/sé/é] is a Wexford-born journalist and writer. He has written for The Irish Times and Al Jazeera, and his creative work has previously been published in Stepaway Magazine, The...
Read More
Eimear Ryan
Eimear Ryan is a writer, editor and camogie player. Her fiction has appeared in Granta, The Dublin Review, The Stinging Fly, and the anthologies The Long Gaze Back (New Island) and Town & Country (Faber)....
Read More
Zoom
Zoom provides modern enterprise video communications, with an easy, reliable cloud platform for video and audio conferencing, collaboration, chat, and webinars across mobile devices, desktops, telephones, and room systems. The...
Read More