Thursday 22 July 2021
7:00 pm
€5
Joanna Walsh's Seed is a polyphonic novel based on her earlier narrative app seed-story.com. The novel was published by No Alibis Press in June 2021 and Joanna will be discussing it with Rachel Andrews.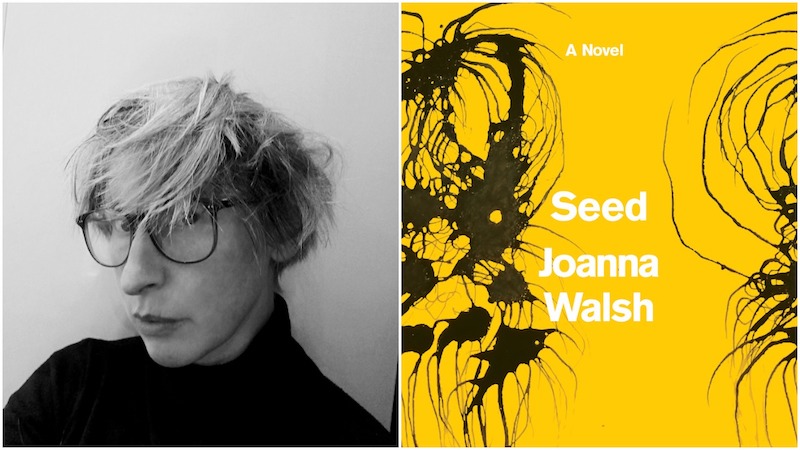 Joanna Walsh's Seed is set in an English valley, summer 1988. A girl leaves school to turn 18 in the raw industrial countryside outside a new town. A polyphonic novel, Seed celebrates the dirty beauty of an untold pre-internet adolescence, of bodies, sexualities, class, environment, fear, joy, and love. Shaped by contemporary terrors (CJD, AIDS, Chernobyl), by the voices of fashion magazines, government warnings, media reports of disasters elsewhere and the words Ophelia speaks in Hamlet, the narrator's voice is also the voice of the seasons budding, blooming, fruiting and of human time, of something that grows and blossoms between girl and womanhood. Seed is tied by a hidden linguistic constraint.
"Seed is a marvel. Each page Joanna Walsh writers shines with such vividness and depth, painting a distinct vision that compels the reader to gaze again, to gaze ever deeper." Doireann Ní Ghríofa
"By resisiting representational narrative, this book works like a 3D printer. Language is the raw material, laid down layer by layer, until the solid object of the story is formed. Non-conformist, hypnotic, incantatory, and satisfyingly strange." Jeanette Winterson
As a writer and artist who explores multiple aspects of representation, Joanna has created a self- generating digital image 'Thicket', which playfully investigates aleatory reading by forming new images each time the reader / player enters the site. This dynamic artwork, and Joanna's description of her intentions, how it has grown from Seed, are available on the No Alibis Press website (noalibispress.com).
In 2017, Visual Editions published a digital interactive app of Seed with illustrations by Charlotte Hicks (seed-story.com) which was shortlisted for the prestigious Europe-wide Lovie Awards in the Digital Experiment and Innovation category. (See critical acclaim of this work at noalibispress.com/titles/seed.)
Joanna Walsh
Joanna Walsh is a multidisciplinary writer for print, digital and performance. The author of seven books, she also works as a critic, editor and teacher. She is a UK Arts...
Read More
Rachel Andrews
Rachel Andrews' essays and criticism have appeared or are forthcoming in outlets including the London Review of Books, n+1, Brick literary journal, the Stinging Fly, Longreads, Gorse, Banshee, the White Review, the Irish Times and the Dublin Review. In 2018, she was...
Read More
Zoom
Zoom provides modern enterprise video communications, with an easy, reliable cloud platform for video and audio conferencing, collaboration, chat, and webinars across mobile devices, desktops, telephones, and room systems. The...
Read More