Monday 26 July 2021
7:00 pm
Free
If climate change is the biggest threat humanity has ever faced, why are we doing so little? Will the Covid-19 pandemic make it worse or better? And where do we go from here? Join climate journalist Jelmer Mommers from Amsterdam as he discusses his new book "How Are We Going to Explain This? Our Future on a Hot Earth" with Caroline O'Doherty, environment correspondent with the Irish Independent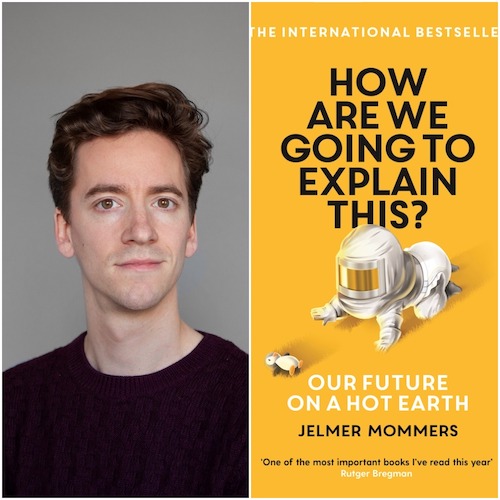 This video is available on our West Cork Literary Festival youtube channel. Click here to watch 
In this revised translation of How Are We Going to Explain This? which includes responses to the Covid-19 pandemic, and drawing on the latest climate science, Jelmer Mommers sets out to answer these questions and many more. He describes how we got here, what possible futures await us, and we can all help to truly make a difference. He also manages to find much to be hopeful about.
Climate change is a great way to ruin a conversation. That is what Jelmer learned over five years immersed in the subject. Most people prefer to look away, which is understandable when we portray climate change as the apocalypse. But this crisis does not offer a definitive end. We decide how bad (or good) it's going to get.
This is the reality:
Civilisation as we know it is in great danger because of global warming.
If we don't take a lot more action soon, we will slide into a heat age: an earth that is 'uncontrollable and dangerous' and 'inhospitable to today's human societies and to many other contemporary species'.
How are we going to explain that we knew this, and we did so little?
This is a book for everyone, and especially for those who prefer to look away or are resigned to an imagined fate. And, unlike so many other climate change books, it promises to leave you with both hope and a plan, showing you what role you can play and why your actions matter. No one is too small to help. We're not lost yet and it's not 'too late'. How bad it gets is up to us.
This is the fourth in a series of four New Dutch Writing events supported by the Nederlands Letterenfonds / Dutch Foundation for Literature. These events take place online at 7pm every Monday during July 2021 as part of this year's West Cork Literary Festival
Jelmer Mommers
Jelmer Mommers is a climate journalist based in Amsterdam. He knows most people prefer not to talk or even think about climate change and that is exactly why he wrote...
Read More
Caroline O'Doherty
Caroline O'Doherty is the Environment Correspondent for the Irish Independent. She reports on a wide range of environment related topics from the climate crisis and conservation to the built environment,...
Read More
Zoom
Zoom provides modern enterprise video communications, with an easy, reliable cloud platform for video and audio conferencing, collaboration, chat, and webinars across mobile devices, desktops, telephones, and room systems. The...
Read More