Wednesday 13 October 2021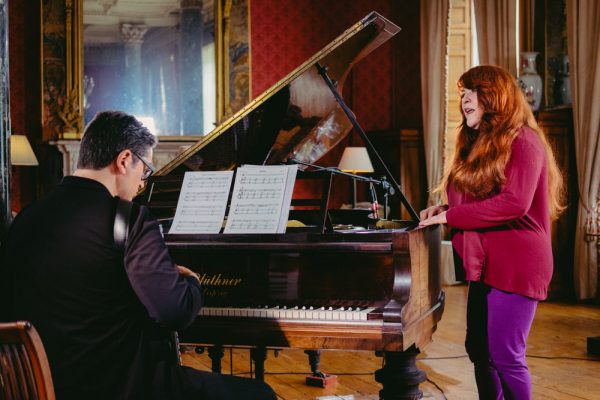 The magnificent stately home Bantry House, overlooking Bantry Bay, is the setting for this performance of poetry by William Butler Yeats by Irish singer Christine Tobin, UK-born guitarist Phil Robson and Italian multi-instrumentalist Francesco Turrisi. A favourite with US audiences, Christine and Phil have only recently returned to Ireland after five years living in New York.
Chanting and enchanting, poetry and music have always been of equal importance to Tobin. In this work she has created a soundworld that uses a rich palette of harmony and colour and draws on influences from jazz, folk and twentieth century classical, from Miles to Messiaen. The poems are chosen from Yeats's early work through to his final collection.
"Christine Tobin is a very fine jazz singer who made a wonderful album combining jazz music with the words of William Butler Yeats. This album was called Sailing to Byzantium and this is the programme that she presents to us in Bantry House. Part of what we do here every year at Masters of Tradition is including some projects which are more marginally connected to the tradition. We usually have special late night concerts and I've always wanted to have a late night concert featuring the music of Christine Tobin and her interpretation of the poetry of William Butler Yeats in a house which resembled the lifestyle and world which he travelled through. This is a very beautiful interpretation of his poetry and the songs amplify the mood of those poems,  giving us a new way of experiencing them." Martin Hayes
"There's a thrilling, dark timbre to Tobin's voice that moves you like no other singer."  The Guardian
"Robson performs impeccably throughout, whether he's contributing chordal washes in support, or taking the spotlight for some intricate, fluid solos of his own." All About Jazz
"His ability to rework ancient melodies and rhythms through a contemporary jazz prism marks Turrisi out as one of the most striking musicians to have emerged on the European Jazz scene in the last decade." All About Jazz
Christine Tobin [Composer, Singer]
Phil Robson [Guitar]
Francesco Turrisi [Piano & Accordian]
---
Online
Online venues vary, see event details for links you need to participate, or we will let you know by email.
Read More