Friday 16 July 2021
8:00 pm
€8
Join international best-selling author Christy Lefteri for a conversation about her brand new novel, Songbirds. Christy will be in conversation with Sue Leonard.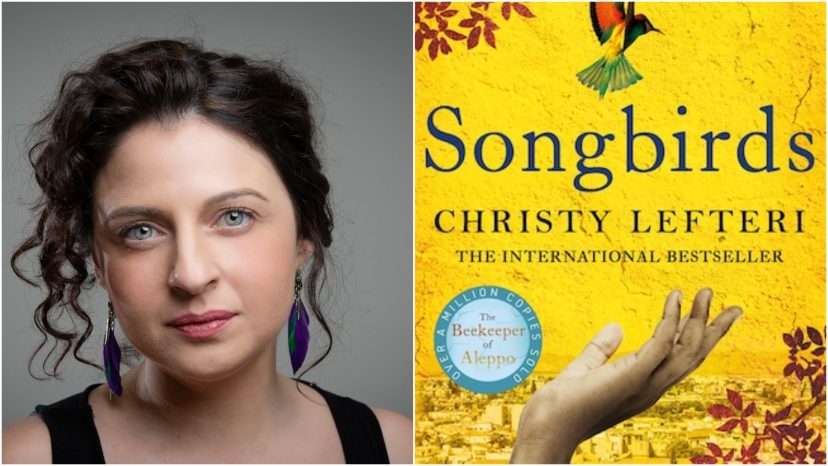 'It began with a crunch of leaves and earth. So early, so cold, the branches shone with ice. I'd returned to collect the songbirds. They are worth more than their weight in gold.'
Yiannis is a poacher, trapping the tiny, protected songbirds that stop in Cyprus as they migrate each year from Africa to Europe, and selling them on the black market. He dreams of finding a new way of life, and of marrying Nisha, who works for Petra and her daughter Angela. Nisha is raising Angela, whilst mothering her own child back in Sri Lanka by the screen of a phone.
When Nisha disappears, Yiannis is convinced he is responsible, paralysed by heartbreak and fear. Petra is forced to care for her child again, and when little Angela insists that they find Nisha, she begins to see that Nisha hasn't simply run away, and that no one else will bother to look for her.
With infinite tenderness and skill, Christy Lefteri has crafted a powerful story about the unseen who walk among us, cleaning our homes and caring for our children and what it is to migrate in search of freedom, only to find yourself trapped.
"I've never read anything quite like Songbirds – a beautifully crafted novel that sits at the intersection of race and class." Jodi Picoult
Christy Lefteri
Brought up in London, Christy Lefteri is the child of Cypriot refugees. She is a lecturer in creative writing at Brunel University. Her international best-selling novel The Beekeeper of Aleppo...
Read More
Sue Leonard
A Journalist and Ghostwriter, Sue Leonard is the co-author of twelve books including two number one best-sellers. If Memory Serves Me Wrong, co-written with the former actor and Riverdance manager, Ronan...
Read More
Zoom
Zoom provides modern enterprise video communications, with an easy, reliable cloud platform for video and audio conferencing, collaboration, chat, and webinars across mobile devices, desktops, telephones, and room systems. The...
Read More