Wednesday 14 July 2021
5:00 pm
€5
Some Body to Love is Alexandra Heminsley's profoundly open-hearted memoir about losing her husband but gaining a best friend, and together bringing up a baby in a changing world. It's an exploration of what it means to have a human body, to feel connected or severed from it, and how we might learn to accept our own. Alexandra will be in conversation with Sasha de Buyl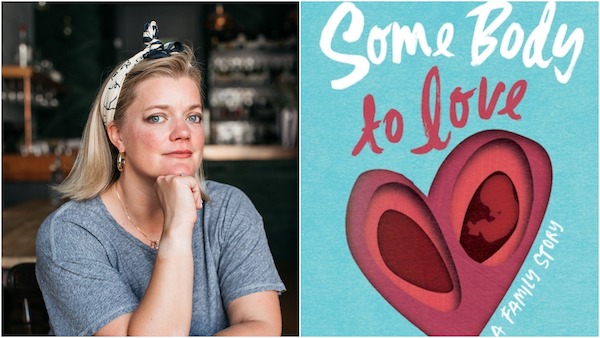 'Today I sat on a bench facing the sea, the one where I waited for L to be born, and sobbed my heart out. I don't know if I'll ever recover.'
This note was written on 9 November 2017. As the seagulls squawked overhead and the sun dipped into the sea, Alexandra Heminsley's world was turning inside out. She'd just been told her then-husband was going to transition. The revelation threatened to shatter their brand new, still fragile, family. But this vertiginous moment represented only the latest in a series of events that had left Alex feeling more and more dissociated from her own body, turning her into a seemingly unreliable narrator of her own reality. Some Body to Love is Alex's profoundly open-hearted memoir about losing her husband but gaining a best friend, and together bringing up a baby in a changing world. Its exploration of what it means to have a human body, to feel connected or severed from it, and how we might learn to accept our own, makes it a vital and inspiring contribution to some of the most complex and heated conversations of our times.
'A brave, thoughtful and timely book — calming and inspiring on our different relationships with our bodies, and vitally compassionate on trans rights.' Naomi Alderman
'Insightful and wise, generous and kind.' David Nicholls
'A book about how a personal crisis caused someone to open up rather than shut down… really admirable and carefully done… on bodies, families, gender identity, bravery.' Amy Liptrot
Alexandra Heminsley
Alexandra Heminsley is an author, ghostwriter, journalist, broadcaster and speaker particularly known for encouraging women to enjoy sport and fitness. Her bestselling books include Running Like a Girl and Leap...
Read More
Sasha deBuyl
Sasha de Buyl is the Director of Cúirt International Festival of Literature in Galway. She has worked for over ten years as a literature development professional in Scotland and prior...
Read More
Zoom
Zoom provides modern enterprise video communications, with an easy, reliable cloud platform for video and audio conferencing, collaboration, chat, and webinars across mobile devices, desktops, telephones, and room systems. The...
Read More