Wednesday 14 July 2021
8:00 pm
€5
Why We Swim is Bonnie Tsui's exploration into the human relationship to swimming and our innate connection to water. Bonnie will be in conversation with fellow swimmer Julie Kelleher.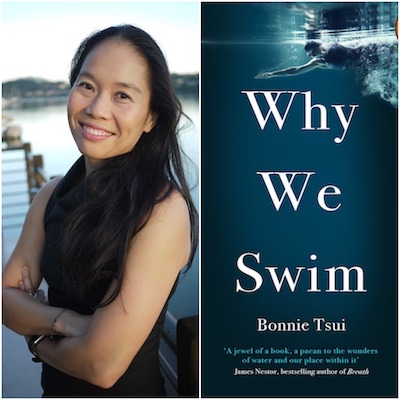 This video is available on our West Cork Literary Festival youtube channel. Click here to watch 
From San Francisco Bay to the South China Sea by way of the Serpentine, swimmer and writer Bonnie Tsui dives into the deep to discover what it is about water that seduces us. We swim for survival, to connect, to disconnect, to compete, in it we find inspiration and strength of both mind and body. We swim in freezing Arctic waters, wide channels, and piranha-infested rivers just because they are there. Swimming is an introspective (and silent) sport in a chaotic age. It is therapeutic for those who are injured and it is one route to that elusive, ecstatic state of Flow.
Propelled by stories of polar swim champions, a Baghdad swim club in the middle of a warzone, Olympian athletes, modern-day samurai swimmers and even an Icelandic fisherman who improbably survived a six-hour swim in the wintry Atlantic, Why We Swim takes us around the globe in a remarkable, all-encompassing account of the world of swimming.
"A love letter to the healing qualities and timeless joy of slipping into the water" The Irish Times
"Why We Swim flows beautifully… Tsui is an excellent storyteller and she captures the narrative quality of swimming: the way you move through your swim, whether in a pool or lake or ocean, as your rhythm constantly changes, or the birds fly overhead, or your mind drifts from counting strokes to daydreaming" The Literary Review
Bonnie Tsui
Bonnie Tsui lives, swims, and surfs in the Bay Area of San Francisco. A longtime contributor to The New York Times and California Sunday Magazine, she has been the recipient...
Read More
Julie Kelleher
Julie is Artistic Director/CEO at Mermaid County Wicklow Arts Centre where she curates a wide-ranging multidisciplinary programme for the venue and at locations offsite. Her background is in performance, directing...
Read More
Zoom
Zoom provides modern enterprise video communications, with an easy, reliable cloud platform for video and audio conferencing, collaboration, chat, and webinars across mobile devices, desktops, telephones, and room systems. The...
Read More