Marijke gives a kaleidoscopic view of a divorce, permitting the reader to enter the heads of not only the spouses, but also of the two daughters and the divorcees' new lovers. Through several characters, we are presented with just as many views on relationships, while Marijke remains impartial and thus confronts us with our own—perhaps shaky—romantic principles. What is love? With fresh flair and provocative perspectives, Marijke manages to provide an original and versatile answer.
"Schermer's fresh style adds something really new to the mountain of stories about falling in love, unhappy marriages, cheating, and heartbreak—she seems to have cleared the dust of the whole theme." De Volkskrant
Marijke's participation in West Cork Literary Festival is supported by the Nederlands Letterenfonds / Dutch Foundation for Literature as part of their New Dutch Writing programme.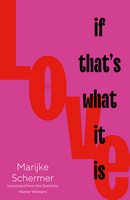 .