Sunday 11 July 2021
6:00 pm
€10
Join Lisa McInerney and Eimear Ryan as they discuss their new novels The Rules of Revelation and Holding Her Breath with Danny Denton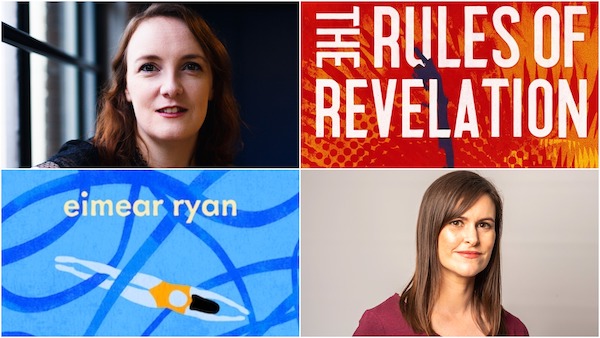 Tickets for this event will go on sale by phone only 02752788 on Tuesday 6 July at 12 noon and will be sold in pods of 2 tickets. Capacity for this event is very limited and further instructions regarding Covid-19 compliance will be sent to ticketholders. Attendance is for ticketholders only. This event will take place outdoors and socially distant seating will be provided.
The Rules of Revelation is 'a head-spinning, stomach-churning state-of-the-nation novel' by Lisa McInerney. It's a powerful blast of sex, scandal, obsession, great nationalists, bad mothers, love, feminism, gender, music, class, transgression, reckonings, reunions, recriminations and a debut album that might drive the whole of Ireland mad… Mel comes back to Cork from Brexit Britain, ill-equipped to deal with the resurgence of a family scandal. Eleventh-hour revolutionary Maureen won't stop until she's rewritten her city's history. Former sex worker Georgie is urged to tell her story by a journalist with her own agenda. And Karine prepares for her ex-boyfriend's return, knowing that Ryan's going to warp all around him… and that she's going to help him do it. Bold, boisterous and compulsive, The Rules of Revelation is also about coming home, growing up and understanding that the place that shaped you doesn't need to be the place that breaks you.
"An enthralling and expansive novel. There is no mistaking the brilliantly inventive, savage, technicolour bounce of McInerney's prose." Colin Barrett
Holding Her Breath is Eimear Ryan's dazzling, page-turning story of passion, family and identity. When Beth Crowe starts university, she is shadowed by the ghost of her potential as a competitive swimmer. Free to create a fresh identity for herself, she finds herself among people who adore the poetry of her grandfather, Benjamin Crowe, who died tragically before she was born. She embarks on a secret relationship – and on a quest to discover the truth about Benjamin and his widow, her beloved grandmother Lydia. The quest brings her into an archive that no scholar has ever seen, and to a person who knows things about her family that nobody else knows.
'Holding Her Breath is a beautiful coming-of-age story told with impressive skill and lightness of touch. It marks the arrival of an exciting new voice on the Irish literary scene, one whom I can't wait to hear more from. I absolutely loved it.' Louise O'Neill
Lisa McInerney
Lisa McInerney's first book, The Glorious Heresies, won the Women's Prize for Fiction and the Desmond Elliott Award and was a bestseller, while her second book, The Blood Miracles, won the Encore Award...
Read More
Eimear Ryan
Eimear Ryan is a writer, editor and camogie player. Her fiction has appeared in Granta, The Dublin Review, The Stinging Fly, and the anthologies The Long Gaze Back (New Island) and Town & Country (Faber)....
Read More
Danny Denton
Danny Denton is a writer from Cork. His first novel, The Earlie King & The Kid In Yellow, was published by Granta Books in 2018. His second novel, All Along The Echo, will be...
Read More
Bantry House
Bantry House is not only one of the finest historic houses in Ireland but it also commands one of the best views overlooking Bantry Bay in West Cork. The original...
Read More