Tuesday 6 April 2021
7:00 pm
€5
Join us for a celebration of the short story to mark the publication of Jan Carson's The Last Resort. Jan is joined by fellow Irish short story writers whose new collections are published this year – Lucy Caldwell, Adrian Duncan, Louise Kennedy, and John Patrick McHugh. This event is available to rewatch on our youtube channel.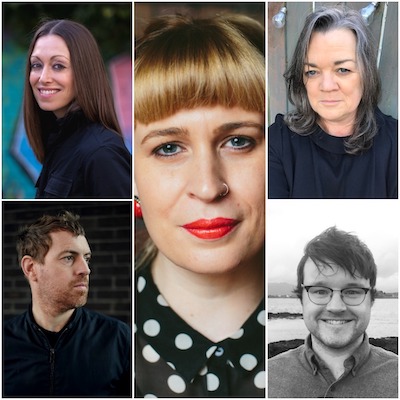 This video is available on our West Cork Literary Festival youtube channel. Click here to watch 
In Jan Carson's new collection, The Last Resort, residents of Seacliff Caravan Park visit their caravans for the first half-term of the year. Frankie obsesses over his long-gone daughter, killed by a car bomb thirty-five years ago. Anna struggles to shake off the ghost of her overbearing mother. Vidas, homeless and far from Lithuania, hides out in one of the caravans. Agatha Christie-obsessed Alma attempts to solve the mystery of items disappearing from the campsite. Kathleen struggles to accept that her daughter is a lesbian. Malcolm is a failed illusionist with an alcohol problem. In this stunning linked short-story collection Jan explores complex family dynamics, ageing, immigration, gender politics, the decline of the Church and the legacy of the Troubles.
Lucy Caldwell's Intimacies exquisitely charts the steps and missteps of young women trying to find their place in the world. From a Belfast student ordering illegal drugs online to end an unwanted pregnancy to a young mother's brush with mortality; from a Christmas Eve walking the city centre streets when everything seems possible, to a night flight from Canada which could change a life irrevocably, these are stories of love, loss and exile, of new beginnings and lives lived away from 'home'. Intimacies offers keenly felt and subtly revealing insights into the heartbreak and hope of modern life.
Midfield Dynamo is the first collection of short stories by award-winning author Adrian Duncan. Patterning and happenstance make up the rich quotidian lives of the characters portrayed in these strange, energetic tales. The loose figures of young artists, footballers and artisan engineers act out against diverse backgrounds from Dublin's northside to Hamburg, Abu Dhabi and Accra, lives tethered yet adrift in a random universe of hard scrabble and occasional illumination.
In The End of the World is a Cul de Sac, Louise Kennedy's visceral, stunningly crafted stories, people are effortlessly cruel to one another, and the natural world is a primitive salve. Here, women are domestically trapped by predatorial men, Ireland's folklore and politics loom large, and poverty – material, emotional, sexual – seeps through every crack. Announcing a major new voice in literary fiction for the twenty-first century, these sharp shocks of stories offer flashes of beauty, and even humour, amidst the harshest of truths.
Set on an imagined island off the west coast of Ireland, Pure Gold is John Patrick McHugh's debut collection of stories and it conjures a complete and varied cast of characters – some lost, some lonely, many dreaming and others self-deceiving. With nuance, compassion and the darkest humour, he casts a bold eye on masculinity, family and class, friendships and betrayal, and embeds us in the moments on which a life can twist and turn.
Jan Carson
Jan Carson is a writer from Northern Ireland. Her books include Malcolm Orange Disappears (2014), Children's Children (2016), Postcard Stories (2017) and The Fire Starters, which won the EU Prize...
Read More
Lucy Caldwell
Lucy Caldwell is the author of four novels, including the forthcoming These Days (Faber, March 2022), two short story collections, and several stage plays and radio dramas. She is also the editor...
Read More
Adrian Duncan
Adrian Duncan is an artist and writer based in Ireland and Berlin. His debut novel Love Notes from a German Building Site was published by The Lilliput Press and Head...
Read More
Louise Kennedy
Louise Kennedy grew up in Holywood, Co.Down. She has written for the Guardian, Irish Times, BBC Radio 4 and RTE Radio 1. Her short stories have been published in The...
Read More
John Patrick McHugh
John Patrick McHugh is from Galway. His fiction has appeared in Winter Papers, The Tangerine, Banshee, Granta and The Stinging Fly. Pure Gold is his debut collection of short stories...
Read More
Zoom
Zoom provides modern enterprise video communications, with an easy, reliable cloud platform for video and audio conferencing, collaboration, chat, and webinars across mobile devices, desktops, telephones, and room systems. The...
Read More