Tuesday 20 July 2021
6:30 pm
Free
Earlier this year Dublin Book Festival filmed their Departures series where they invited writers to reflect on the impact that landscape has on their writing. This episode was filmed at Sirius Arts Centre, Cobh and Manchán Magan is in conversation with Cork writers and artists Billy O'Callaghan and Alice Taylor with music by Jack O'Rourke.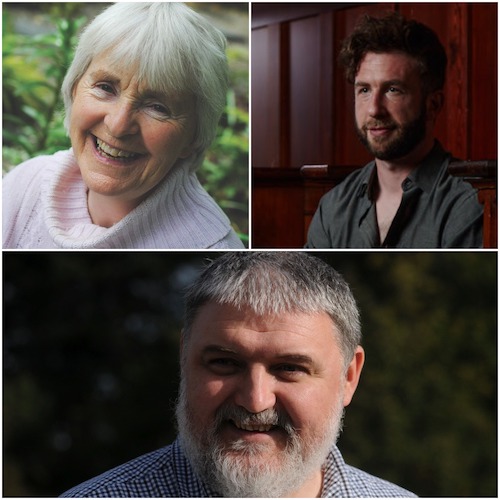 This video is available on the Dublin Book Festival youtube channel. Click here to watch 
From Cobh harbour in Co. Cork host Manchán Magan is joined by acclaimed writer Billy O'Callaghan and author and poet Alice Taylor to discuss the impact of the scenic harbour landscape on their writing and discuss their inspiration from their surroundings and the effects of the changing landscape in Cork. Filmed at Cobh's Sirius Arts Centre, with imagery from the dramatic Spike Island. Cork musicians Jack O'Rourke and Aisling Fitzpatrick treat us to a performance of two new songs from Jack's upcoming album. This episode reflects the beauty and contrasts of Cork and includes actor Irene Kelleher reading from Billy's novel Life Sentences (Jonathan Cape, 2020) and a selection of Alice Taylor's poems.
Manchán Magan has written books on his travels in Africa, India and South America and two novels. He writes regularly for The Irish Times, presents The Almanac of Ireland on RTÉ Radio 1 and reports on travel for various radio programmes. He has presented dozens of documentaries on issues of world culture for TG4, RTÉ  & Travel Channel. His book Thirty-Two Words For Field explores the insights the Irish language offers into the landscape, psyche and heritage of Ireland. www.manchan.com
Billy O'Callaghan
Billy O'Callaghan is the author of the critically acclaimed novel My Coney Island Baby, which has been translated into eight languages. His story 'The Boatman' was shortlisted for the Costa...
Read More
Jack O'Rourke
Jack O'Rourke has been described as "one of Ireland's most gifted songwriters". A Cork man by birth, Jack first came to prominence with his ode to misunderstood youth and growing up gay, 'Silence'...
Read More
Alice Taylor
Alice Taylor is the author of the ever-popular To School through the Fields, and many other bestsellers, including And Time Stood Still, The Gift of a Garden, The Women, Do You Remember?, Tea and Talk, Home...
Read More
Online
Online venues vary, see event details for links you need to participate, or we will let you know by email.
Read More