Sunday 11 July 2021
12:00 pm
€10
Alannah Hopkin's A Very Strange Man: A Memoir of Aidan Higgins is an honest and heartbreaking literary memoir of the lives of two Irish writers, from the thunderbolt of love to receding into dementia and remaining the greatest of companions throughout. Alannah will be in conversation with fellow writer and Kinsale resident Matthew Geden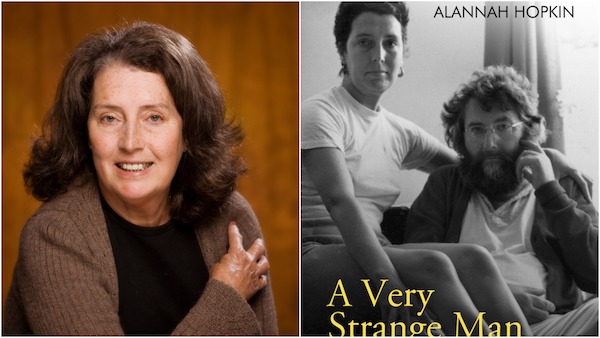 Tickets for this event will go on sale by phone only 02752788 on Tuesday 6 July at 12 noon and will be sold in pods of 2 tickets. Capacity for this event is very limited and further instructions regarding Covid-19 compliance will be sent to ticketholders. Attendance is for ticketholders only. This event will take place outdoors and socially distant seating will be provided.
Alannah Hopkin's A Very Strange Man: A Memoir of Aidan Higgins is a love story, set against the Irish literary background of the years 1986–2015. Both authors were writing steadily for the 29 years they were together, but their careers could not have been more different: while Aidan focussed on his form-bending writing, Alannah instinctively prioritised work that would pay bills and provide Aidan with some of the most stable and productive years of his life. In this way, they were the best for each other, but as Aidan's health diminished and Alannah finally ceased being his full-time carer, she found herself – often guiltily – with more 'freedom' to write whatever she wanted. Hopkin tells their story chronologically, faithfully and 'without commentary', from the evening they were introduced by poet Derek Mahon, through the joyful, challenging and dark years of marriage, writing and mental ill-health, and right up until Aidan's last moments when his hand went limp in hers. A Very Strange Man is an exceptional piece of writing, objective and authoritative, and personal, vulnerable and moving.
Alannah Hopkin
Alannah Hopkin is based in Kinsale in county Cork. She is the 2020 Frank O'Connor International Fellow. Her story collection The Dogs of Inishere was published by Dalkey Archive Press...
Read More
Matthew Geden
Matthew Geden was born and brought up in the English Midlands, moving to Kinsale in 1990. His work has been featured in many anthologies, journals and magazines. He has published...
Read More
Bantry House
Bantry House is not only one of the finest historic houses in Ireland but it also commands one of the best views overlooking Bantry Bay in West Cork. The original...
Read More