Friday 19 July 2019
6:30 pm
€10
SOLD OUT
What To Bring When We Leave is a collaborative commission culminating in a unique continuous live performance by Tom French (word) and Danny Diamond (fiddle).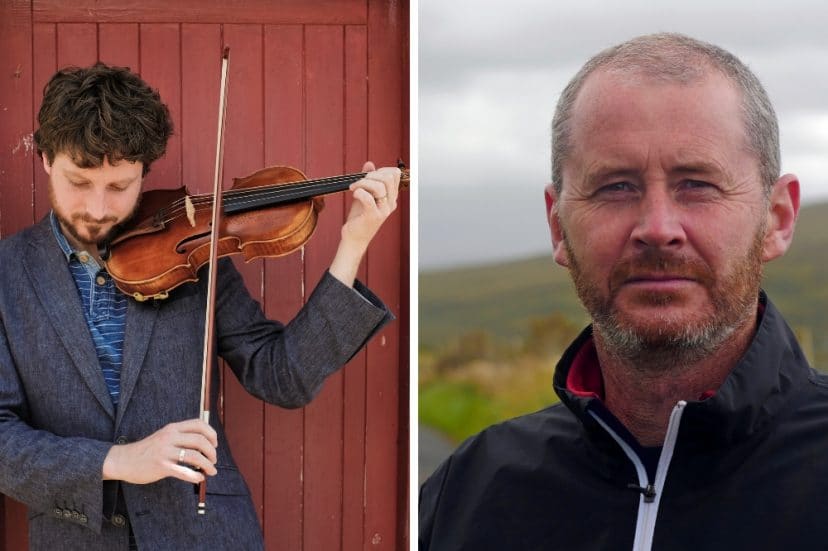 Each artist stretches the other's narratives in spoken and unspoken airs, finding solace in the unexpected places between. Tom's poetry draws on the traditional arts, folklore and rural Irish life; he writes vividly about traditional music, the people who play(ed) it, and the context in which it lives. As a traditional fiddle player, music archivist and researcher, Danny's compositions bring a corresponding unconventional sensitivity to a similar sphere that informs Tom's work.
A unique What To Bring When We Leave publication of photography, poetry and music has also been published to accompany the performance.
"Seldom does a musician utterly inhabit a tradition while still expressing him or herself with such originality." Irish Times [on Danny Diamond]
"French's ability in each of his books, is to find a way into such places, where the "beautifully executed wounds" are shown for what they are." John McAuliffe [on Tom French]
This is a Solstice Arts Centre commission creatively produced by Belinda Quirke
Danny Diamond
Danny Diamond is a fiddle player, composer, and recording engineer based in Dublin. In his music, Danny creates a unique sound-world, rooted in the rich heritage of Irish traditional music, while also incorporating...
Read More
Tom French
Tom French has received bursaries in literature from An Chomhairle Ealaíon/The Arts Council, Ireland, in 1999, 2009, and 2016, and his work was awarded the inaugural Ted McNulty Prize. His first...
Read More