Friday 12 July 2019
8:30 pm
€25
SOLD OUT
A powerful and hopeful manifesto for justice on the most pressing humanitarian issue of our time by former President of Ireland and United Nations High Commissioner for Human Rights Mary Robinson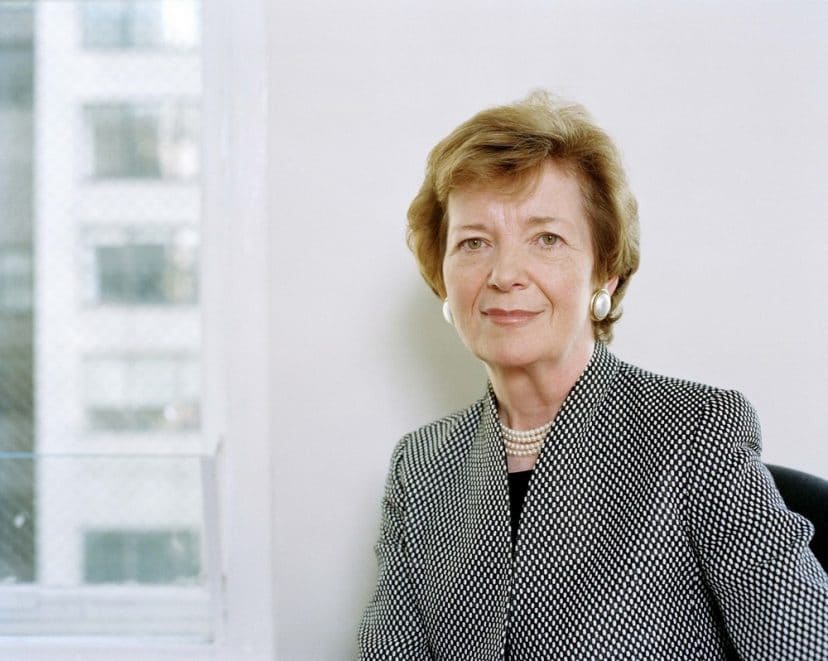 Holding her first grandchild in her arms in 2003, Mary Robinson was struck by the uncertainty of the world he had been born into. Before his fiftieth birthday, he would share the planet with more than nine billion people – people battling for food, water and shelter in an increasingly volatile climate. The faceless, shadowy menace of climate change had become, in an instant, deeply personal.
Mary Robinson's mission would lead her all over the world, from Malawi to Mongolia, and to a heartening revelation: that the agents of change in the battle for climate justice at grassroots level were women, many of them mothers and grandmothers like herself. From Sharon Hanshaw, the Mississippi matriarch whose campaign began in her East Biloxi hair salon and culminated in her speaking at the United Nations, to Constance Okollet, a small farmer who transformed the fortunes of her ailing community in rural Uganda, Robinson met with ordinary people whose resilience and ingenuity had already unlocked extraordinary change.
Powerful and deeply humane, Climate Justice is a stirring manifesto on one of the most pressing humanitarian issues of our time, and a lucid, affirmative and well-argued case for hope.
"As an advocate for the hungry and the hunted, the forgotten and the ignored, Mary Robinson has not only shone a light on human suffering, but illuminated a better future for our world." President Barack Obama, when presenting Robinson with the
Presidential Medal of Freedom
"This is a book about people: farmers and activists in Africa, Asia, and the Americas, people whose livelihood is ruined by climate change and climate injustice. Yet it is also a celebration of their fight back. I was moved by Mary Robinson's account of amazing women leading the fight for their communities." Mo Ibrahim
"Mary Robinson has all the Gaelic attributes; she is warm, friendly and engaging. She is really passionate about human rights, especially the rights of women and young girls, and cares deeply about the environment." Archbishop Emeritus Desmond Tutu
"Addressing climate phenomena is the way to ensure justice for humanity. Mary Robinson, as UN Special Envoy on climate change & as UN High Commissioner for Human Rights, has been a global champion to bring justice for all. Her book inspires & guides us on what to do to protect humanity & our only world." Ban Ki-moon, 8th UN Secretary General, Member of the Elders
Mary Robinson
Mary Robinson is President of the Mary Robinson Foundation - Climate Justice. She served in two capacities as the United Nations Secretary-General's Special Envoy on Climate Change. She is the former...
Read More
The Maritime Hotel
The stylish Maritime Hotel is set on Bantry Bay amid the three rugged peninsulas of Mizen Head, Sheep's Head and Beara. Have a wonderful meal in The Maritime Bar or...
Read More