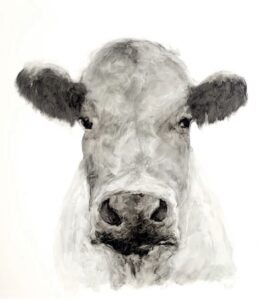 Growing up in the 1950's in the seaside town of Coronado, California across the bay from San Diego, painter John David Ratajkowski remembers "being able to draw anything I could see." Fascinated as a boy by all variety of materials, John was early on adept at painting, sculpture, ceramics, printmaking, lithography. He recalls that the key attraction for him in every case was the compelling desire "to make"—whatever the media. His exceptional drawing ability found expression in a series of pen and ink drawing of Black American blues musicians published as illustrations in a seminal work on American blues. Early on, though, John knew his "true love" was painting. Funded by a grant from the National Endowment for the Arts, remarkable large black and white portraits of Alzheimer's patients testifies to John's capacity to render the figure realistically, even as his interpretation of his subjects demonstrates the unique power of his vision.
John's abstract work took him to Ireland for a two-year sabbatical to work at non-figurative landscape; this work resulted in two major exhibitions in Dublin. Invited later to be resident artist at "Dom Polonia", a national arts council in Poland, and then to Bulgaria to exhibit in that country's Triennial, John traveled through Eastern Europe photographing and sketching Gypsy communities and producing a series of painted collages of Gypsy life. This series was sponsored by the Lipinsky Institute for Judiac Studies and presented through a grant from the California Council for the Humanities. John's experiments in abstract work have powerfully impacted his portraiture. A series of portraits of Jewish literary figures depicted in film brings together John's abstract painting techniques with his long-time work in the portrait. Most recently, John has filmed and interviewed friends of four decades in Bantry and Dublin to produce a series of portraits and drawings.
The need to absorb the influences of different places paired with his fascination with material and technique manifests itself in all aspects of John's life: for the last two decades he has restored two old houses, one in the pueblo of Sant Joan, Mallorca, and the other in Bantry, County Cork, Ireland. Exhibited in the US and internationally, John's work appears in private and corporate collections. Today John, with his wife Kathy and daughter Emily, divides his time between their home in Del Mar, California, and the two farmhouses in Ireland and Mallorca.