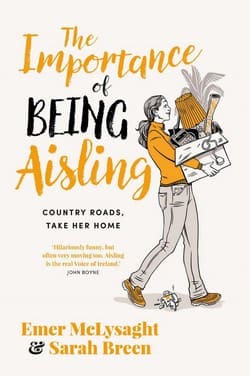 Authors and best friends, writing duo Emer McLysaght and Sarah Breen have had a whirlwind two years since their first book became an instant sensation when it was published in 2017. It quickly hit the No 1 slot, garnering high praise from fiction writing stalwarts like Paul Howard, Marian Keyes and Louise O'Neill. They are working with Element Pictures to bring this first novel to the silver screen. Their second book The Importance of Being Aisling: Country Roads, Take Her Home was published by Gill Books in September 2018 and Emer and Sarah are currently working on book number three.
With more than ten years' experience in broadcasting and journalism, Co. Kildare native Emer McLysaght wasn't sure if she'd ever get around to writing that book. However, 2018 finds her with bestselling novel Oh My God, What a Complete Aisling under her belt, co-authored with long-time friend and collaborator Sarah Breen. Emer lives in Dublin and has somehow ended up with three cats.
Born and raised in the village of Borris, Co. Carlow, Sarah Breen started her career in journalism at KISS magazine. Since then her writing has appeared in many Irish print publications, as well as online. She and Emer co-wrote Oh My God, What a Complete Aisling mainly in her children's playroom, and never dreamed it would be an Irish Times No. 1 bestseller. Sarah lives in Dublin 7 with her husband and three children, and dreams of the day Oasis will reunite.