Alex Petcu
Caitríona Frost
The Bangers and Crash Percussion Group is a collective of Irish percussions who regularly collaborate for a wide range of projects. Their flexibility means that they can perform everything from huge, spectacular shows that fill the stage with instruments to small, intimate concerts, school workshops, street performances and much, much more.
Alex Petcu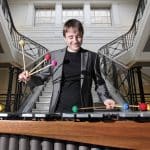 An Irish musician of Romanian origin, Alex is quickly establishing himself both nationally and internationally as a percussionist of the finest calibre. His recent appearances as a soloist with both the R.T.E. National Symphony and Concert Orchestras, and as the solo musician in Shakespeare's "Twelfth Night" at the Abbey Theatre are some of his main highlights so far. He has also been chosen to be the National Concert Hall Rising Star recitalist and an artist in residence for the Cork School of Music for 2015.
He recently won first prize at the Irish Freemasons Young Musician of the Year competition and reached the semi-finals at the Tromp International Percussion Competition, one of the most prestigious percussion competitions.
Caitríona Frost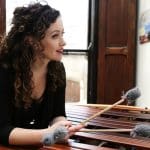 Hailing from Cork, Caitríona first played percussion in the Ballincollig Concert Band at the age of four, playing an egg shaker! Now Dublin based, Caitríona performs regularly with the R.T.É. orchestras, Wexford Festival Opera Orchestra, Irish Chamber Orchestra, Ulster Orchestra and the Dublin City Jazz Orchestra.
Also a busy drummer, Caitríona has recently performed with Declan O'Rourke, Hayley Westenra and Rebecca Storm. She has performed in a host of theatre shows, one of which was Alice in Funderland, directed by Wayne Jordan at The Abbey Theatre. In addition, she performed as an actor/music in productions by the Cork Operatic Society where she had to perform entire operas from memory at the Everyman Theatre.