Saturday 3 July 2021
3:00 pm
€5
Pour yourself a cup of tea and treat to yourself to your favourite pastry as Nektaria Anastasiadou discusses her debut novel A Recipe for Daphne with fellow Hoopoe Press author Denyse Woods. Nektaria will be in Istanbul, Denyse will be in West Cork and we hope you tune in wherever you are.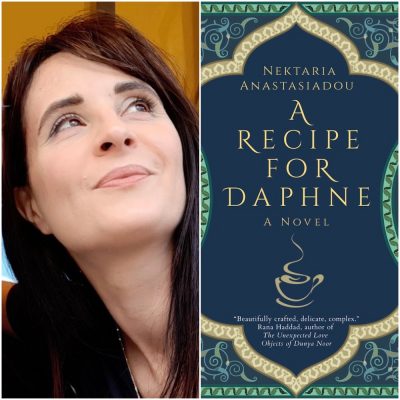 This video is available on our West Cork Literary Festival youtube channel. Click here to watch 
In Nektaria Anastasiadou's debut novel A Recipe for Daphne, Fanis Paleologos is a charming widower at the center of a small yet stubbornly proud community of Rum, Greek Orthodox Christians, who have lived in Istanbul for centuries. When Daphne, the American-born niece of an old friend, joins his afternoon tea circle, Fanis' dream of finding true love is unsettled by memories of the 1955 pogrom and the fiancée he lost shortly afterward.
While Fanis struggles to confront his buried past, his friend Kosmas, a master pastry chef, falls in love with Daphne and attempts to attract her attention by searching for a forgotten Ottoman pastry recipe.
But Daphne is more concerned with finding her place in the world, whether that is in Miami, where she was born, or in Istanbul, the city of her ancestors. And she also has a family secret that may change Kosmas' feelings about her.
While the story plays out, we feast on delicious food and pastries and are also entertained by the antics of Daphne and Kosmas' friends and family. The novel, sure to transport and entertain, is a literary comedy about today's Istanbul Rum Community and its survival.
"At times as sweet as Istanbul's pastries, at others as bitter as its coffee, the love stories that run through A Recipe for Daphne reveal how a decades-old tragedy still haunts the city's dwindling Greek community. If you have ever been to Istanbul, you will recognise its sumptuously written characters and places. If you have not, it will make you want to go immediately." Hannah Lucinda Smith, author of Erdogan Rising: The Battle for the Soul of Turkey
Nektaria Anastasiadou
Nektaria Anastasiadou's debut novel, A Recipe for Daphne, was published by Hoopoe, the fiction imprint of the American University in Cairo Press, in February 2021. Nektaria is the 2019 winner of the...
Read More
Denyse Woods
Denyse Woods is the author of six novels, including Overnight to Innsbruck (Lilliput) and Of Sea and Sand (Hoopoe), and she recently published Indian Pacific and other travels (Kobo), a short collection of fiction and non-fiction. Denyse...
Read More
Zoom
Zoom provides modern enterprise video communications, with an easy, reliable cloud platform for video and audio conferencing, collaboration, chat, and webinars across mobile devices, desktops, telephones, and room systems. The...
Read More