Thursday 21 October 2021
4:00 pm
Free
Join us to celebrate Irish Book Week with Cork writer Madeleine D'Arcy and her new collection of linked short stories, Liberty Terrace. Madeleine will be in conversation with fellow Cork writer Tadhg Coakley. Places are strictly limited - contact Bantry Bookshop via DM or text 0872773516 to book a free ticket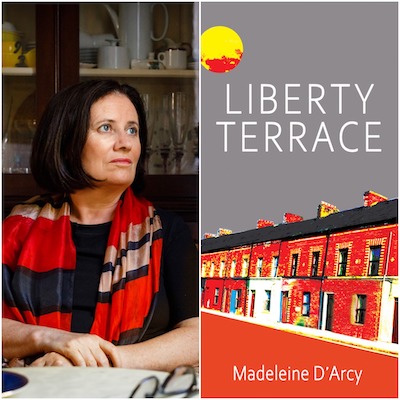 Liberty Terrace is Madeleine D'Arcy's second collection of short fiction. These linked short stories feature a bevy of characters who reside in a fictional area of Cork City from 2016 to 2020. The inhabitants of Liberty Terrace come and go, and their lives occasionally intersect in stories that are sometimes funny, sometimes dark, often both.
The cast of characters includes retired Garda Superintendent Deckie Google, a young homeless squatter, the mother of an autistic child working part-time as a Census Enumerator, the dysfunctional Callinan family, an aging rock star, a trio of ladies who visit a faith healer, a philandering husband, as well as a surprising number of cats and dogs. These stories shed light on how we lived before and during the Covid-19 pandemic, on what we care about and on what, if anything, we can truly count on.
"These are fizzing dark comedies with deadly serious intent from a natural storyteller – a fantastic collection." Kevin Barry
"The stories in Liberty Terrace are intimate, humane and wickedly funny. Moving and perceptive, these stories are by turns unsettling and luminous. A triumph!" Danielle McLaughlin
Madeleine D'Arcy
Madeleine D'Arcy is a fiction writer based in Cork City. Her début short story collection, Waiting For The Bullet (Doire Press, 2014) won the Edge Hill Readers' Choice Prize 2015...
Read More
Tadhg Coakley
Tadhg Coakley is from Mallow and lives in Cork city. His debut novel The First Sunday in September was shortlisted for the Mercier Press Fiction prize; it was published in 2018 to much...
Read More
Bantry Bookshop
Bantry Bookshop is an independent bookshop situated in Bantry in beautiful West Cork on the South West Coast of Ireland. We stock a wide range of new books, local books,...
Read More