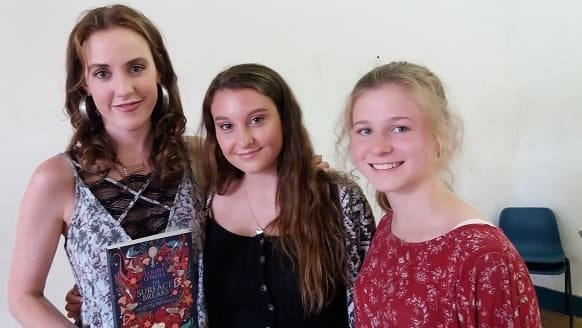 Blurandevu with Louise O'Neill, Bantry, 14 July 2018
Popular Irish author Louise O'Neill attended the READ ON event during the West Cork Literary Festival 2018. The event was both hosted and attended by a young adult audience. Louise discussed her recent book The Surface Breaks and answered questions and discussed her influences, feminism and her plans for the future.
The Wren Hunt by Mary Watson, Blurandevu 17 July 2018
South African writer Mary Watson's The Wren Hunt proved to inspire some very interesting discussion points at her Blurandevu event in Bantry on 17 July 2018.  Her panel of two young interviewers drew on her background and how the re-locating to a vastly different culture encouraged her to delve deep into folklore of the area to better understand her new country of residence.
Muhammad Khan Young Adult Blurandevu Events at West Cork Literature Festival
Writer and teacher Muhammad Khan was hugely impressed by the highly developed and well thought-out questions asked by his young interview in Bantry on 18 July.   Muhammad answered questions on his choice of a female protagonist to tell the story, immigration, religion, identity and media representation.