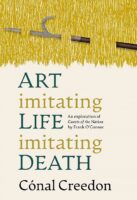 Cónal Creedon is a novelist, playwright and documentary film maker. He was appointed Adjunct Professor of Creative Writing at University College Cork. Cónal's recently published collection of award-winning short fictions Pancho and Lefty Ride Again (2021) has been awarded Cork's One City One Book Award 2022.
His novel, Begotten Not Made (2018), has achieved literary award recognition: the Eric Hoffer Award USA 2020, the Bronze Award New Generation Book Award USA 2020, Finalist in the Montaigne [Most Thought-Provoking Book] Award USA 2020, Nominated for the Dublin International Book Award 2020. Book of the Year Irish Examiner. Top Books of the Year – Liveline RTÉ Irish National Radio. Other books by Cónal Creedon include, Cornerstone (2017), The Immortal Deed of Michael O'Leary (2015), Second City Trilogy (2007), Passion Play (1999) cited as Book of the Year BBC Radio 4, Pancho & Lefty Ride Out (1995), Pancho & Lefty Ride Again (2021)
Cónal's award-winning plays include; The Trial of Jesus (2000), which featured as part of the Irish National Millennium celebrations, received two Business to Arts Awards by President of Ireland Mary McAleese and was nominated for an Irish Times Special Judges Theatre Award 2000. Glory Be to the Father (2001), produced by Red Kettle Theatre Company, Waterford. Cónal's Second City Trilogy of stage plays achieved high acclaim from theatre critics in Shanghai, New York and Ireland. The Second City Trilogy picked up a number of awards at the 1st Irish Theatre Awards New York, including Best Actor, Best Director and nominated Best Playwright. When I Was God, a production from the Second City Trilogy was also awarded Best Actor and Best Supporting Actor at ICA Federation Awards 2014. In 2021 it was awarded Best Production, Best Actor and Best Director at the Irish National Play Awards.
Cónal's film documentaries achieved high critical acclaim, including shortlisted for the Focal International Documentary Awards UK and numerous broadcasts by RTÉ [Irish National Television] with international screening at Féile an Phobail West Belfast Festival, World Expo Shanghai, China, Origin Theatre Festival New York, USA, the Irish National Centenary Commemorations and at NYU New York University, USA. Cónal has written and produced more than 60 hours of original radio drama broadcast by RTÉ, BBC, CBC, ABC. Cited as Best Radio by Irish Times radio critics 1996 and 1998.