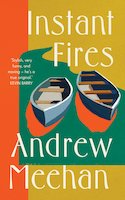 Welcome to Day 17 of our 2022 West Cork Literary Festival Advent Calendar. Our author today is Andrew Meehan.
Andrew Meehan's short fiction has been published in The Stinging Fly, The Moth, Banshee and Winter Papers, and in TOWN & COUNTRY: The Faber Book of New Irish Stories. His debut novel One Star Awake (New Island) was longlisted for the 2018 Desmond Elliott Prize, the UK's most prestigious award for debut novelists. His second book, The Mystery Of Love, a unique and moving reimagining of the relationship between Constance and Oscar Wilde, was published in 2020. Andrew is a lecturer in Creative Writing at the University of Strathclyde in Glasgow. Prior to writing fiction, he worked for many years in script development, most notably at the Irish Film Board where he nurtured numerous Irish feature-films, including the Oscar-nominated animated feature Song of the Sea and the ground-breaking comedy Good Vibrations. Andrew also writes screenplays, and film adaptations of One Star Awake and The Mystery of Love are in funded development. He was born in Dublin and lives in Glasgow with his partner Áine Prendergast, a scientist. Instant Fires is his third novel.
Andrew is reading an extract from Instant Fires which was published by New Island in September 2022. Today's video unlocked on 17th December 2022 and may be viewed below. Closed caption subtitles are available and may be turned on or off. Press the play button or click "Watch on Youtube" to watch it in full screen.
About our WCLF Literary Advent Calendar
2022 was another wonderful year for Irish writing and so many incredible books by Irish authors and authors living in Ireland were released this year. We're delighted to bring you a small selection of these authors and we've invited twenty-four writers to submit a short video reading from their new books. Our selection is an attempt to show the wide range of Irish writing and in particular to focus on writers whose books we feel deserve more attention and those who were not previously featured in WCLF 2022 events. We hope that you will enjoy the chance to hear these writers reading their own work and to discover some new books for your reading piles.