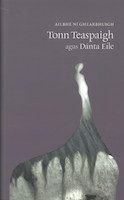 Welcome to Day 11 of our 2022 West Cork Literary Festival Advent Calendar. Our author today is Ailbhe Ní Ghearbhuigh.
Ciarraíoch í Ailbhe Ní Ghearbhuigh. Tá a cuid filíochta léite aici i bPáras, i Nua Eabhrac, i Montréal agus ar an mBuailtín. Bhuaigh a dán 'Deireadh na Feide' Corn Uí Néill in 2012 agus roghnaíodh 'Filleadh ar an gCathair' mar Dhán Uachtarántacht an Aontais Eorpaigh in 2013. Bhain an dán céanna áit amach ar ghearrliosta RTÉ, 'A Poem for Ireland'. D'fhoilsigh Coiscéim a céad chnuasach filíochta, Péacadh, in 2008 agus Tost agus Allagar in 2016. Ghnóthaigh Tost agus Allagar Duais Uí hAirtnéide in 2019. The Coast Road an teideal atá ar chnuasach dátheangach a d'fhoilsigh Gallery Press mar a bhfuil aistriúcháin le filí aitheanta an Bhéarla. D'fhoilsigh Cois Life Dánta Andrée Chedid mar chuid den tsraith 'File ar Fhile' in 2019. Bronnadh Duais Lawrence O'Shaughnessy uirthi in 2020. Foilseoidh Éabhlóid cnuasach nua léi, Tonn Teaspaigh agus Dánta Eile, mí na Samhna 2022.
Ailbhe Ní Ghearbhuigh was born in Kerry. She has read at festivals in New York, Paris, Montréal, Berlin and Ballyferriter. In 2012 her poem 'Deireadh na Feide' won the O'Neill Poetry Prize. 'Filleadh ar an gCathair' was chosen as Ireland's EU Presidency poem in 2013 and was shortlisted in 2015 for RTE's 'A Poem for Ireland'. Coiscéim published her first book Péacadh (2008) and Tost agus Allagar (2016). The latter won the Michael Hartnett Award in 2019. A bilingual collection, The Coast Road, was published by Gallery Press, and includes English translations by thirteen poets. Dánta Andrée Chedid, translations from the French, was published in 2019 by Cois Life as part of their 'File ar Fhile' series. She is the 2020 recipient of the Lawrence O'Shaughnessy Award.
Ailbhe is reading an extract from Tonn Teaspaigh agus Dánta Eile which was published by Éabhlóid in November 2022. Today's video unlocked on 11th December 2022 and may be viewed below. Closed caption subtitles are available and may be turned on or off. Press the play button or click "Watch on Youtube" to watch it in full screen.
About our WCLF Literary Advent Calendar
2022 was another wonderful year for Irish writing and so many incredible books by Irish authors and authors living in Ireland were released this year. We're delighted to bring you a small selection of these authors and we've invited twenty-four writers to submit a short video reading from their new books. Our selection is an attempt to show the wide range of Irish writing and in particular to focus on writers whose books we feel deserve more attention and those who were not previously featured in WCLF 2022 events. We hope that you will enjoy the chance to hear these writers reading their own work and to discover some new books for your reading piles.