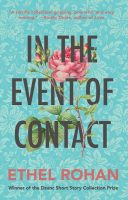 Welcome to Day 3 of our West Cork Literary Festival Advent Calendar. Our author today is Ethel Rohan.
Ethel Rohan is the author of In the Event of Contact, winner of the Dzanc Books Short Story Collection Prize (June, 2021). Her debut novel The Weight of Him was a 2017 Amazon, Bustle, KOBO, and San Francisco Chronicle Best Book, and was shortlisted for the Reading Women Award. Rohan is also the author of the short-short story collections Goodnight Nobody and Cut Through the Bone, which were longlisted for the Edge Hill Prize and the Story Prize respectively. She's published widely, including The New York Times, World Literature Today, The Washington Post, PEN America, The Irish Times, Tin House, and The Stinging Fly. From Dublin, she lives in San Francisco.
Ethel is reading an extract from In The Event Of Contact which was published by Dzanc Books in June 2021. Today's video unlocked on 3rd December 2021 and may be viewed below. Closed caption subtitles are available and may be turned on or off. Click on "youtube" or "full screen" icon in the video to watch it in full screen or visit youtube here.
About our WCLF Literary Advent Calendar
2021 was another wonderful year for Irish writing and so many incredible books by Irish authors and authors living in Ireland were released this year. Even though festivals returned in-person and online not every author had the opportunity to launch their books with a public celebration or to engage with audiences in the "usual" way. We're delighted to bring you a small selection of these authors and we've invited twenty-four writers to submit a short video reading from their new books. Our selection is an attempt to show the wide range of Irish writing and in particular to focus on writers whose books we feel deserve more attention and those who were not previously featured in WCLF 2021 events. We hope that you will enjoy the chance to hear these writers reading their own work and to discover some new books for your reading piles.