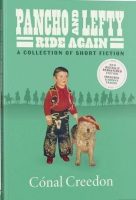 Welcome to Day 24 of our West Cork Literary Festival Advent Calendar. Our author today is Cónal Creedon.
Cónal Creedon is a novelist, playwright and documentary film maker from Cork. He was appointed Adjunct Professor of Creative Writing at University College Cork. His 2018 novel, Begotten Not Made was nominated for the Dublin International Book Award 2020. Book of the Year Irish Examiner. Other books by Cónal Creedon include, Cornerstone (2017), The Immortal Deed of Michael O'Leary (2015), Second City Trilogy (2007), Passion Play (1999) cited as Book of the Year BBC Radio 4, Pancho & Lefty Ride Out (1995), Pancho & Lefty Ride Again (2021). Cónal's award-winning plays include; The Trial of Jesus (2000), which featured as part of the Irish National Millennium celebrations, received two Business to Arts Awards by President of Ireland Mary McAleese and was nominated for an Irish Times Special Judges Theatre Award 2000. His Second City Trilogy of stage plays achieved high acclaim from theatre critics in Shanghai, New York and Ireland. The Second City Trilogy picked up a number of awards at the 1st Irish Theatre Awards New York, including Best Actor, Best Director and nominated Best Playwright. Cónal has written and produced more than 60 hours of original radio drama broadcast by RTÉ, BBC, CBC, ABC. Cited as Best Radio by Irish Times radio critics 1996 and 1998.
Cónal is reading an extract from Pancho & Lefty Ride Again which was published by Irishtown Press in August 2021. Today's video unlocked on 24th December 2021 and may be viewed below. Closed caption subtitles are available and may be turned on or off. Click on "youtube" or "full screen" icon in the video to watch it in full screen or visit youtube here.
About our WCLF Literary Advent Calendar
2021 was another wonderful year for Irish writing and so many incredible books by Irish authors and authors living in Ireland were released this year. Even though festivals returned in-person and online not every author had the opportunity to launch their books with a public celebration or to engage with audiences in the "usual" way. We're delighted to bring you a small selection of these authors and we've invited twenty-four writers to submit a short video reading from their new books. Our selection is an attempt to show the wide range of Irish writing and in particular to focus on writers whose books we feel deserve more attention and those who were not previously featured in WCLF 2021 events. We hope that you will enjoy the chance to hear these writers reading their own work and to discover some new books for your reading piles.