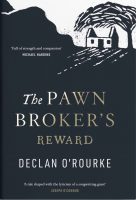 Welcome to Day 21 of our West Cork Literary Festival Advent Calendar. Our author today is Declan O'Rourke.
Declan O'Rourke, one of Ireland's best-loved singer-songwriters, has been described by The New York Times as a writer of songs full of 'compassion, romance, a sense of mortality and a sense of history'. His award-winning album Chronicles of the Great Irish Famine illuminated an extraordinary series of eye-witness accounts, including the story of Pádraig and Cáit ua Buachalla in the song 'Poor Boy's Shoes'. His hit song 'Galileo' has been described by Paul Weller as the song from the past thirty years he most wished he'd written. Other notable fans of Declan's include the Pulitzer Prize-winning poet Paul Muldoon, Imelda May, Pete Townshend and Eddi Reader, who described Declan as 'one of the finest songwriters on the planet'. The Pawnbroker's Reward is his first book and it is set in County Cork in 1846.
Declan is reading an extract from The Pawnbroker's Reward which was published by Gill Books in November 2021. Today's video unlocked on 21st December 2021 and may be viewed below. Closed caption subtitles are available and may be turned on or off. Click on "youtube" or "full screen" icon in the video to watch it in full screen or visit youtube here.
About our WCLF Literary Advent Calendar
2021 was another wonderful year for Irish writing and so many incredible books by Irish authors and authors living in Ireland were released this year. Even though festivals returned in-person and online not every author had the opportunity to launch their books with a public celebration or to engage with audiences in the "usual" way. We're delighted to bring you a small selection of these authors and we've invited twenty-four writers to submit a short video reading from their new books. Our selection is an attempt to show the wide range of Irish writing and in particular to focus on writers whose books we feel deserve more attention and those who were not previously featured in WCLF 2021 events. We hope that you will enjoy the chance to hear these writers reading their own work and to discover some new books for your reading piles.