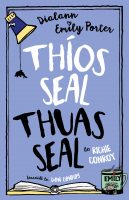 Welcome to Day 17 of our West Cork Literary Festival Advent Calendar. Our author today is Richie Conroy.
Is scriptscríbhneoir é Richie Conroy a oibríonn ar go leor cláracha teilifíse agus scannáin don aos óg. Bhí sé ainmnithe do dhuais 'Zebbie' le déanaí do script a scríobh sé don dráma Malory Towers bunaithe ar leabhar cáiliúil Enid Blyton. Tá gearrscéalta a scríobh sé foilsithe sa leabhar Saibhreas (Mentor Press). Ba é Dialann Emily Porter: An Jailtacht a chéad úrscéal (LeabhairCOMHAR, 2018). Tá sé mar scríbhneoir cónaithe in DCU i mbliana.
Richie Conroy writes scripts for award-winning TV and film productions. In 2021, Richie was nominated for a Zebbie Award for his work on the BBC drama Malory Towers. He is the writer-in-residence DCU/Arts Council for the year 2021.  Dialann Emily Porter: Thíos Seal Thuas Seal is his second novel, the first, the bestselling Dialann Emily Porter: An Jailtacht, was published by LeabhairCOMHAR in 2018.
Seanchara le Socky agus Zig & Zag ar The Den (cur ceist ar do thuismitheoirí!), is údar agus maisitheoir é Don Conroy agus tá neart leabhar maisithe aige do dhaoine óga. Is aisteoir é Don freisin – Moone Boy (SKY), Roy (CBBC) agus 'Fran: Assistant Manager' (TV3). Thaithin sé go mór leis bheith ag comhoibriú lena mhac Richie ar an leabhar seo.
Don Conroy is well known as Uncle Don to Dustin, Socky and Zig & Zag on RTE's The Den (ask your parents) and is an author and illustrator of many books for children and young adults. Don is also an actor and was seen in Moone Boy (SKY), Roy (CBBC) and the mockumentary 'Fran: Assistant Manager (TV3)'. He loved collaborating with his son Richie as illustrator for this second book.
Richie is reading an extract from Dialann Emily Porter: Thíos Seal Thuas Seal which was illustrated by Don Conroy and published by LeabhairCOMHAR in November 2021. Today's video unlocked on 17th December 2021 and may be viewed below. Closed caption subtitles are available and may be turned on or off. Click on "youtube" or "full screen" icon in the video to watch it in full screen or visit youtube here.
About our WCLF Literary Advent Calendar
2021 was another wonderful year for Irish writing and so many incredible books by Irish authors and authors living in Ireland were released this year. Even though festivals returned in-person and online not every author had the opportunity to launch their books with a public celebration or to engage with audiences in the "usual" way. We're delighted to bring you a small selection of these authors and we've invited twenty-four writers to submit a short video reading from their new books. Our selection is an attempt to show the wide range of Irish writing and in particular to focus on writers whose books we feel deserve more attention and those who were not previously featured in WCLF 2021 events. We hope that you will enjoy the chance to hear these writers reading their own work and to discover some new books for your reading piles.