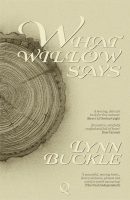 Welcome to Day 1 of our 2021 West Cork Literary Festival Advent Calendar. Our author today is Lynn Buckle.
Lynn Buckle is a deaf/hard-of-hearing artist, activist, and tutor. Her second novel What Willow Says, published by époque press, is 'a deeply affecting love song to the bogs' (Irish Independent) celebrating deafness and the unique language of trees. Other work includes her debut novel The Groundsmen, anthologies such as What Meets the Eye from Arachne Press, Infinite Possibilities, Brigid, Luisne an Chleite, HCE Review, époque ezine and literary articles for The Irish Times. Awards include John Hewitt Society Bursary, Greywood Arts Carers Residency, Shortlist Red Line Short Story Competition, and she represents Ireland as a UNESCO City of Literature Writer in Residence at the UKs National Centre for Writing. She is a judge of writing competitions on behalf of Irish Naturist Association and Kildare Readers Festival. Lynn hosts Ireland's Climate Writers' Group at The Irish Writers' Centre, interviewing international authors and encouraging writers of all genres to include positive climate solutions in their fiction.
Lynn is reading an extract from What Willow Says which was published by époque press in May 2021. Today's video unlocked on 1st December 2021 and may be viewed below. Closed caption subtitles are available and may be turned on or off. Click on "youtube" or "full screen" icon in the video to watch it in full screen or visit youtube here.
About our WCLF Literary Advent Calendar
2021 was another wonderful year for Irish writing and so many incredible books by Irish authors and authors living in Ireland were released this year. Even though festivals returned in-person and online not every author had the opportunity to launch their books with a public celebration or to engage with audiences in the "usual" way. We're delighted to bring you a small selection of these authors and we've invited twenty-four writers to submit a short video reading from their new books. Our selection is an attempt to show the wide range of Irish writing and in particular to focus on writers whose books we feel deserve more attention and those who were not previously featured in WCLF 2021 events. We hope that you will enjoy the chance to hear these writers reading their own work and to discover some new books for your reading piles.