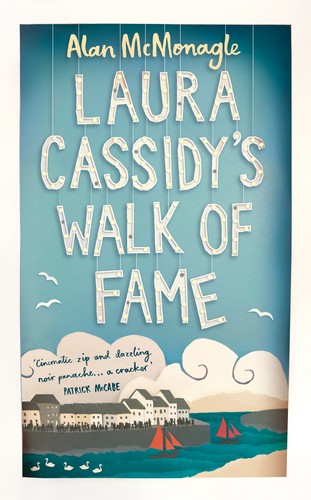 Welcome to Day 3 of our West Cork Literary Festival Advent Calendar. Our author today is Alan McMonagle.
Alan McMonagle lives in Galway. In 2015, he signed a two-book deal with Picador, and in 2017, Ithaca, his debut novel was published and longlisted for the Desmond Elliott Award for first novels and shortlisted for a Bord Gais Irish Book Award. He has published two collections of short stories (Psychotic Episodes, Arlen House, 2013 and Liar Liar, Wordsonthestreet, 2008), both of which were nominated for the Frank O'Connor Award. He also writes for radio and his plays, Oscar Night, People Walking On Water, Shirley Temple Killer Queen and Pink Moon have been produced and broadcast as part of RTE's Drama on One season. His second novel, Laura Cassidy's Walk Of Fame was published by Picador in March 2020. Laura Cassidy's Walk Of Fame is essentially a comedy of aspiration pitted against self-sabotaging hope.
Alan is reading an early scene where we meet Laura the young girl gifted with a dream to pursue.
Today's video will unlock just after midnight on 3rd December 2020.
About Our Literary Advent Calendar 2020
So many incredible books by Irish authors and authors living in Ireland were released this year, without the usual fanfare of festivals and launches. We're delighted to celebrate a small selection of these authors here and we've invited twenty-four writers to submit a short video reading from their new books.
Visit our Advent Calendar here and join us each day from 1st to 24th December to unlock a new reading.
Each day's video will also go live on YouTube, Vimeo and Facebook.